Aadeela is a sorceress found on the 1st2nd floor[UK] of her house, at the south-easternmost point of Al Kharid near Shantay Pass. She grows sq'irks in the Sorceress's Garden.
She used to be good friends with Osman, the spymaster of Al Kharid. However, their relationship soured and she stopped supplying him with the sq'irks Osman enjoys.[1]
When talked to, she demands to know what adventurers are doing in her house. If threatened or spoken to rudely, she teleports the intruder out of her house. If they attempt to convince her to give them sq'irks, she casts a truth spell that reveals their intent.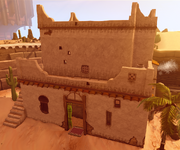 References
Edit
Ad blocker interference detected!
Wikia is a free-to-use site that makes money from advertising. We have a modified experience for viewers using ad blockers

Wikia is not accessible if you've made further modifications. Remove the custom ad blocker rule(s) and the page will load as expected.