Sombrero
Discuss

0
24,282pages
on this wiki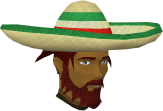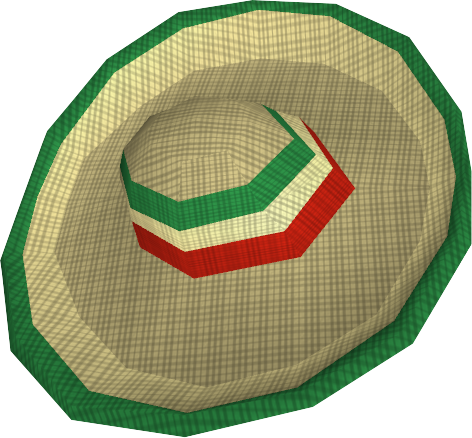 A sombrero is a rare prize that may be won from the Squeal of Fortune, released during the Fiesta de Guerreros promotion running from 5 May to 13 May 2013 in celebration of Cinco de Mayo and the launch of Spanish servers in Latin America. Although this is a free to play item, it can only be claimed while on a members server. The item confers no bonuses and may be worn for purely cosmetic purposes.  Even though the promotion is over it is still avaliable as a reward on the wheel.
Combat Stats

| Class | Slot |
| --- | --- |
| None | |

Weapons
Main
Off
Damage
-
-
Accuracy
-
-
Style
-
-
Attributes
Armour rating

0

Life bonus

+0

Prayer bonus

0

Critical bonuses

0%

0%

0%

Compare item

A player wearing a sombrero

[view] • [talk]
Even though it has no bonuses, the monks will not allow you to bring the sombrero to Entrana.
Yelps • Promotions (2012) • Controversies
Bonus spins
Cash bags
Prismatic lamps
Skill specific XP Lamps
Material packs (small)

Construction crate • Crafting crate • Farming crate • Herblore crate • Smithing crate • Summoning crate • Fletching crate

Material packs (large)

Construction crate • Crafting crate • Farming crate • Herblore crate • Smithing crate • Summoning crate • Fletching crate

Pets
Weapons

Wizards' Tower staff • Dominion Tower maul • Slayer Tower shortbow • White stag bow

Headgear

Legendary Horns • Closed helmet • Skullbuster hat • Headsplitter hat • Queen Black Dragon helm • Kalphite King helm • Sombrero

Lucky armour

Lucky Armadyl chainskirt • Lucky Armadyl chestplate • Lucky Armadyl helmet • Lucky Bandos tassets • Lucky Bandos boots • Lucky Bandos chestplate • Lucky dragon full helm • Lucky dragon chainbody • Lucky dragon platebody • Lucky spectral spirit shield • Lucky arcane spirit shield • Lucky elysian spirit shield • Lucky divine spirit shield

Lucky weapons

Lucky Bandos godsword • Lucky Zamorak godsword • Lucky Saradomin godsword • Lucky Armadyl godsword • Lucky dragon claws (Mainhand, Off-hand) • Lucky dragon 2h sword • Lucky Zamorakian spear • Lucky Saradomin sword • Lucky abyssal whip • Auspicious katana

Luchador masks

El Astado • El Chango Descarado • El Defensor • El Dios de la Guerra • La Diosa de Cristal • El Hombre Verde • La Justicia Voladora • El Padre de la Luz • El Serpiente • La Sombra

Exquisite weapons

Exquisite 2h sword • Exquisite battleaxe (Off-hand) • Exquisite claw (Off-hand) • Exquisite crossbow (Off-hand) • Exquisite halberd • Exquisite longsword (Off-hand) • Exquisite mace (Off-hand) • Exquisite orb • Exquisite shield • Exquisite shortbow • Exquisite spear • Exquisite staff • Exquisite sword (Off-hand) • Exquisite wand • Exquisite whip

Other

Coin of balance
Prismatic
Normal

| | |
| --- | --- |
| Combat | Attack • Strength • Defence • Ranged • Prayer • Magic • Constitution |
| Other | Crafting • Mining • Smithing • Fishing • Cooking • Firemaking • Woodcutting • Runecrafting • Dungeoneering |
| Members | Agility • Herblore • Thieving • Fletching • Slayer • Farming • Construction • Hunter • Summoning • Divination |

Bright

| | |
| --- | --- |
| Combat | Attack • Strength • Defence • Ranged • Prayer • Magic • Constitution |
| Other | Crafting • Mining • Smithing • Fishing • Cooking • Firemaking • Woodcutting • Runecrafting • Dungeoneering |
| Members | Agility • Herblore • Thieving • Fletching • Slayer • Farming • Construction • Hunter • Summoning • Divination |
Outfits

Experience boosting sets

| | |
| --- | --- |
| Artisan's outfit | Artisan's bandana • Artisan's top • Artisan's legs • Artisan's gloves • Artisan's boots |
| Blacksmith's outfit | Blacksmith's helmet • Blacksmith's top • Blacksmith's apron • Blacksmith's gloves • Blacksmith's boots |
| Botanist's outfit | Botanist's mask • Botanist's top • Botanist's trousers • Botanist's gloves • Botanist's boots |
| Diviner's outfit | Diviner's headwear • Diviner's robe • Diviner's legwear • Diviner's handwear • Diviner's footwear |
| First age outfit | First age tiara • First age amulet • First age cape • First age ring • First age bracelet |
| Shaman's outfit | Shaman's headdress • Fang of Mohegan • Shaman's poncho • Shaman's leggings • Shaman's hand wraps • Shaman's moccasins |
| Slayer masks | Mask of Broken Fingers • Mask of Mourning • Mask of Stone • Mask of Reflection • Mask of Gelatin • Mask of Dust • Mask of the Kura • Mask of Granite • Mask of Vines • Mask of the Abyss |
| Sous chef's outfit | Sous chef's toque • Sous chef's jacket • Sous chef's trousers • Sous chef's mitts • Sous chef's shoes |

Cosmetic outfits

Ramokee outfit

Ramokee headwear • Ramokee torso • Ramokee legs • Ramokee hands • Ramokee feet

Skirmisher armour

Skirmisher helm • Skirmisher cuirass • Skirmisher tassets • Skirmisher gloves • Skirmisher boots

Warband armour

| | |
| --- | --- |
| Warlord outfit | Warlord headdress • Warlord tunic • Warlord kilt • Warlord gloves • Warlord boots |
| Archon outfit | Archon headdress • Archon crest • Archon tassets • Archon gloves • Archon boots |
Prismatic pendants
Gems
Normal

| | |
| --- | --- |
| Combat | Attack • Strength • Defence • Ranged • Prayer • Magic • Constitution |
| Other | Crafting • Mining • Smithing • Fishing • Cooking • Firemaking • Woodcutting • Runecrafting • Dungeoneering |
| Members | Agility • Herblore • Thieving • Fletching • Slayer • Farming • Construction • Hunter • Summoning • Divination |

Prized Pendants of Skill

| | |
| --- | --- |
| Combat | Attack • Strength • Defence • Ranged • Prayer • Magic • Constitution |
| Other | Crafting • Mining • Smithing • Fishing • Cooking • Firemaking • Woodcutting • Runecrafting • Dungeoneering |
| Members | Agility • Herblore • Thieving • Fletching • Slayer • Farming • Construction • Hunter • Summoning • Divination |
Mad May's Wild Weekends

Barrel of monkeys • Monkey mace • See-no-evil monkey hat • Speak-no-evil monkey hat • Hear-no-evil monkey hat

Squeal of Neptune
Sizzling Summer

Sunbathe item • Candyfloss • Seaside rock • Beach ball • Water balloon • Ice cream cone hat • Summer sun ring • Summer storm ring • Summer barbecue • Shark fists (1-4 and off-hand 1-4)

Dragon ceremonial outfit

Dragon ceremonial hat • Dragon ceremonial breastplate • Dragon ceremonial greaves • Dragon ceremonial boots • Dragon ceremonial cape

Queen's Guard outfit

Queen's guard hat • Queen's guard shirt • Queen's guard trousers • Queen's guard shoes • Queen's guard staff

Hallowe'en
D&D tokens

Evil tree • Familiarisation • Fish Flingers • Penguin Hide and Seek • Phoenix Lair • Shooting Star • Tears of Guthix • Circus • The Pit • Troll Invasion • God Statues • Sinkholes • Daily • Weekly • Monthly

December Winter Weekends

TzHaar whips (1-7) • Sapphire blue present • Emerald green present • Ruby red present • Diamond white present • Dragonstone purple present

Other

Alchemist's amulet fragments (1-10) • Flying Goblin Hat • Swag Bag • Swagger Stick
Valentine items

Valentine heart • Chilli chocolate • Coconut cream • Dwarven delight • Noisette triangle key • Rose essence truffle • Vanilla fudge log

Tribute to Guthix
Starfire/Starfury

Starlight ore • Starborn diamond • Sword blueprints • Staff blueprints • Bow blueprints • Starfire sword • Starfire staff • Starfire bow • Starfury sword • Starfury staff • Starfury bow

Tattoos

Arcane Tattoo • Mystic Tattoo • Bold Tattoo • Intricate Tattoo • Marauder Tattoo • Tribal Tattoo

Horns
Cinco de Mayo

Plain wrap • Avocado sauce • Avocado wrap • Bean puree • Bean wrap • Spicy pepper sauce • Spicy pepper wrap • Soured cream • Sour cream wrap • Beef-filled flatbread • Chicken-filled flatbread • Fish-filled flatbread • Vegetable-filled flatbread • Corn chip platter

Lamp of the Djinn

Lamp of the Djinn • Ghul (Handle • Pot • Spout) • Ifrit (Handle • Pot • Spout) • Marid (Handle • Pot • Spout) • Sila (Handle • Pot • Spout) • Vetal (Handle • Pot • Spout) • Bottled genie

Crown of Seasons

Crown of Seasons • Flourishing seeds • Charred branches • Fallen leaves • Lush blossoms

Shaman's outfit

Spirit wolf blood • Spirit wolf skull • Spirit wolf pelt • Spirit wolf femur • Spirit wolf claws • Spirit wolf paws

Lucky Clover

One-leaf clover necklace • Two-leaf clover necklace • Three-leaf clover necklace • Four-leaf clover necklace

Golden chinchompa

Golden chinchompa • Food bag • Large food bag • Dried chillies • Curried lard nuggets • Pure caffeine • Thaumic chronometer

Mine Blowing

Black iron ring • Jewelled black iron ring • Dwarven black iron ore • Dwarven black diamond

Grinning idol

Bronze (Head • Body • Arms • Legs • Incomplete) • Jade (Head • Body • Arms • Legs • Incomplete) • Gold (Head • Body • Arms • Legs • Incomplete) • Ivory (Head • Body • Arms • Legs • Incomplete) • Obsidian (Head • Body • Arms • Legs • Incomplete)

Life & Dead masks

Starved mask of Amascut • Tormented mask of Icthlarin • Amascut relic • Icthlarin relic

Other

Alchemist's amulet fragments (1-10) • Transmutation tablet • Samid's gloves