Solomon's General Store is a microtransaction store released on 17 July 2012. The store is run by a genie known as Solomon Madini.
Solomon's General Store was updated on 3 September 2013 following the merge with the Members Loyalty Programme, allowing certain items from both stores to be purchased with each others' currency.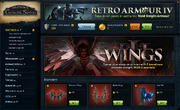 Solomon's General Store sells a variety of unique personalisations and items that is applied to the player avatar in the form of a cosmetic override, or otherwise enhances gameplay in many different ways. Most transactions in the store are done with RuneCoins, which can be purchased with real world money, or redeemed with Bonds. Since the merge of the Members Loyalty Programme, a handful of merchandise were given the option to be purchased using Loyalty points. However, items that were once a part of the programme remained Loyalty points exclusive (except most titles). Members are given a permanent 10% discount applied only on the RuneCoins cost of every item in the store.
Solomon's emporium, located south of the Grand Exchange in Varrock, is carved flamboyantly after an elephant in wood. The entrance is furnished with four mannequins, bearing two male and two female, which is used to display newly released commodities. The main hut in the centre leads to the main store itself, while the doors on the both sides lead to the Pets (yellow paw symbol) and Customisation (cyan shirt symbol) interfaces respectively.
Alternatively, the General Store itself can be accessed from the Extras tab, distinguishable by the mark of a gold pendant with a ruby embedded. The Pets and Customisation tabs may also be opened through the Hero and Gear tabs respectively, rendering the General Store functions useless.
Recolouring
Edit
Many of the outfit and accessory overrides offered at the General Store have recolourable sections on them. The available colours for most outfits (unless stated otherwise) are:
Dim grey
Goldenrod
Blue/violet
Teal

Slate grey
Orange
Navy blue
Lawn green

Silver
Hot pink
Royal blue
Forest green

Ivory white
Crimson
Sky blue
Saddle brown
On top of that, 4 outfits (TokHaar Brute, TokHaar Veteran, TokHaar Warlord and the Dragon Wolf outfit) out of all the available have a unique set of 16 colours. This mainly corresponds to parts of the outfit embedded with gemstone materials that are capable of being recoloured throughout the outfit. These colours consist of various minerals:
Onyx
Basalt blue
Earthy red
Malachite green

Igneous blue
Lava red
Sandstone yellow
Indigo quartz

Cerulean lodestone
Burnt orange
Emerald green
Ametrine

Blue flame
Limestone yellow
Moss Agate
Amethyst
Note that the in-game colour selection for both Igneous blue and Blue flame have the exact same colour value, only differing in colours when in used on an override, with Blue flame appearing a tint lighter as seen.
The Replica Metal Plate Armour uses another separate set of 7 colours. Each corresponds to the standard metal equipment (excluding white) available in RuneScape. Replica trimmed armours are only compatible with black, adamant and rune. Likewise, bronze, iron, steel and mithril do not have a trimmed counterpart.
Shop stock
Edit
The shop provides a selection of merchandise ranging from cosmetic overrides, pets and physical items that have specific functionalities. The accessories, combat gear and outfits provide unique skins, known as cosmetic overrides that overlay the player's equipment when activated. Packs also come with cosmetic overrides, though also include other wares such as unique animations and emotes when purchased. Animations are also cosmetic overrides, differing in the overlay of a default animation rather than the avatar character itself.
Aside from the cosmetic overrides, unique Emotes, Hairstyles and Titles are also available from Solomon's General Store. Equipment and Services are also provided to enhance a player's gameplay in many ways, such as providing entertainment for special occasions, extra bank spaces, player wealth tally and more. Exclusive pets are also sold at the General Store, existing as companion, follower or legendary pets. Legendary pets have special abilities that provide a range of capabilities when activated.
Solomon's General Store is regularly updated with new stock as time passes. Moreover on selected occasions, certain stocks will be sold at a discounted price as well.
On 3 September 2013 auras and colour changes for selected physical items were made available via Solomon's General Store. Previusly they were available through the Members Loyalty Programme and they're bought exclusively with Loyalty Points.
An update on 3 May 2016 made each item available only with either Loyalty Points or RuneCoins; no items are now available to be bought with both currencies.
The following pages contain information on the stock available in the store:
Current freebies
Edit
Each month since February 2013, Solomon's General Store offers selected wares at a free price throughout the month. The free product can only be claimed by players with membership subscription (i.e. members). However, title [Name] the Thrifty can be claimed by both free players and members alike.
Indefinitely free
Edit
Temporarily free
Edit
Past freebies
Edit
There were two freebies in February as a compensation of omitting one in January.
There were two freebies in June as compensation for omitting one in May.[1]
There were multiple freebies in March as compensation for omitted ones in January and February.
Both months were in conjunction with the Sizzling Summer promotion.
Controversy
Edit
The store itself caused a great deal of controversy at launch as the items are only obtained by using real world money. Many players voiced concerns over further microtransactions following the addition of the Squeal of Fortune earlier in the year. Nonetheless, many others were pleased knowing that this store offered purely cosmetic merchandise, unlike the Squeal of Fortune at its time.
As time passes with the introduction of various Solomon's Pets and Bank Boosters, some players argue that these items give an in-game advantage, and are not purely cosmetic as they provide functionalities. Other merchandise that caused controversies, thus supporting this notion over time, included services like the dragon keepsake key, wicked pouch and most recently the wealth evaluator. 
External links
Edit
Ad blocker interference detected!
Wikia is a free-to-use site that makes money from advertising. We have a modified experience for viewers using ad blockers

Wikia is not accessible if you've made further modifications. Remove the custom ad blocker rule(s) and the page will load as expected.