Solomon's General Store
Discuss

51
24,278pages
on this wiki

---
You can browse Solomon's General Store by clicking this link. Note: You must be logged in to the RuneScape website for this to work.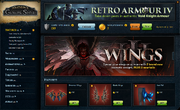 Solomon's General Store is a micro-transaction-based store released on 17 July 2012. The store sells a variety of unique customisation skins, titles, hairstyles, and other items for the player to purchase. All transactions in the store are done with runecoins, which are purchased with real world money; however, members gain access to 1 free item a month. All members are given a 10% discount on every item in the store.
The General Store shares its location on the interface with the Squeal of Fortune and customisation, in the bottom-left tab. Currently, the Revolutionary Mask is available for free 
The shop was updated on September 3rd 2013. It was merged with the Members Loyalty Programme, allowing some items from both stores to be purchased with each others' currency.
Latest News
Edit
Solomon's General Store is having a sale during 24th September 2013 - 30th September 2013 with a 50% discount off selected Loyalty Point costs and 20-40% discount off selected RuneCoin costs.[1]
As of 22nd October all items that can be purchased with both Loyalty Points and RuneCoins, have had their Loyalty Point prices reduced by up to 40%. You will be refunded the difference if you have purchased any of these items prior to this update.
Recolouring
Edit
Many of the outfit and accessory overrides have recolourable sections on them. The available colours for most are:
Dim grey

Slate grey

(default)

Silver

Ivory white

Goldenrod

Orange

Hot pink

Crimson

Blue/violet

Navy blue

Royal blue

Sky blue

Teal

Lawn green

Forest green

Saddle brown
Shop stock
Edit
Accessories
Edit
Animations
Edit
Hairstyles
Edit
Equipment
Edit
Re-colours
Edit
On September 3rd, 2013, colour changes were made available via Solomon's General Store, however, they could not be purchased with RuneCoins.
On 3 September 2013, the Members Loyalty Programme auras were made available in Solomon's General Store. Unlike some items, they were still loyalty point exclusive.
Currently free (m)
Edit
Past Freebies
Edit
Controversy
Edit
The store itself caused a great deal of controversy at launch as the items are only obtained by using real world money. Many players voiced concerns over further microtransactions, however, many others were pleased knowing that this store was purely cosmetic, unlike the Squeal of Fortune. With the introduction of Solomon's Pets and Bank Boosters, some players argue that these items give an in-game advantage, and are not purely cosmetic. 
After 9 October, Jagex made it so that teleportation spells will have a random animation, chosen from those a player has bought, played when he or she chooses to teleport. This was suggested on the RuneScape Forums.[2] This was later changed to a cyclical system to prevent the random order being used for gambling.
References
Edit
Control panel

| | |
| --- | --- |
| Top | Combat styles • Tasks • Stats (Target System) • Quest List(Quest Overview) • Inventory (Money pouch) • Worn Equipment (Equipment Stats) (Items Kept on Death) (Toolbelt) (Customisation) • Prayer screen • Spellbook |
| Bottom | Extras (Squeal of Fortune) • (Solomon's General Store) • (Customisation) • Friends List (Ignore List) • Friends Chat • Clan Chat • Options • Emotes • Music Player • Notes |

Minimap
Action bar

Constitution Status Globe • Adrenaline and Auto Retaliate • Prayer Status Globe • Summoning Status Globe

Other

Assist System • Chat (Quick Chat)(Spam filter)(News) • Choose Option • Developer console • Game controls • Main Menu • Make-X • Trading interface • XP Counter • Money pouch (Price Checker) • Activity Stream