Snowy knight
Discuss

0
22,530pages
on this wiki
This article is about the hunter creature. For the item of the same name, see
Snowy knight (item)
.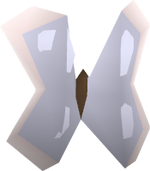 The Snowy knight is a butterfly that can be captured at the Rellekka Hunter area by hunters with a Hunter level of at least 35. A butterfly net and a butterfly jar are required, which can be bought at hunter stores. Once caught, the Snowy knight can be used on another player in multi-combat area to increase the other player's Life points. Snowy knights can be helpful in completing quests such as Desert Treasure because a partner can bring along some Snowy knights to help heal the player while fighting Damis. Unlike food, it doesn't take up inventory spaces from the player fighting, and doesn't interrupt combat.
With level 90 Hunter and 85 Agility, a player can catch Snowy knights with their bare hands. This gives the player 500 Hunter and 100 Agility experience. To do this, the player must unequip any items they are holding in the weapon slot and then click the butterfly. The player will follow it until it is caught. However, after a butterfly is caught, the player will release it. Butterflies respawn very quickly; to minimise the amount of time running around trying to find them, camp a spot that spawns a butterfly with a small wander radius.
They are found together with the less popular Sapphire glacialis butterflies.

Ruby harvest (item) •

Sapphire glacialis (item) •

Snowy knight (item) •

Black warlock (item) • Guthixian