Snape grass is a members-only item used in the making of prayer potions and fishing potions. It can be used in a hangover cure, which is needed in the Plague City quest and the Mogres miniquest.
Three clumps spawn at the Hobgoblin Peninsula south-west of the Crafting Guild, and twenty-seven spawn around Waterbirth Island. Three of those spawns require the use of Telekinetic Grab. However, it is no longer popular to collect them as their value has greatly declined.
Chaos Druids and Waterfiends drop them, and players can also loot it from implings. 
Snape grass can also be collected by growing snape grass seeds in allotments at level 80 farming. Each piece harvested yields 80 experience. Snape grass can be used to make regular compost in the farming compost bins.
Drop sources
Edit
This list was created dynamically. For help, see the FAQ.
To force an update of this list, click here.
For an exhaustive list of all known sources for this item, see here.
Disassembly
Edit
Due to an update on 1 February 2016, snape grass now has a higher junk chance than the original 2%.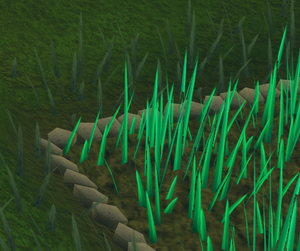 Allotment produce
Flower produce
Hops
Bush produce
Tree produce
Fruit tree produce
Special produce
Ad blocker interference detected!
Wikia is a free-to-use site that makes money from advertising. We have a modified experience for viewers using ad blockers

Wikia is not accessible if you've made further modifications. Remove the custom ad blocker rule(s) and the page will load as expected.