A snake charm is an item used to charm snakes and rodents. It can be obtained by placing a coin from the inventory (not the money pouch) into the money pot of Ali the Snake Charmer in Pollnivneach. He will refuse to sell a snake charm to those with one already in their inventory. It can also be obtained from Wingstone during the Gnome Restaurant minigame. It is used in the quests The Feud and Ratcatchers as well as in the Pyramid Plunder minigame.
To play it, open up the song book by clicking on the flute, then select a single note from each of the book's eight pages. This will create a song. Find a snake then use the snake charm on the snake and the song will start playing. It is possible to fail if your charming skills are insufficient or you can't hit the high note, which just requires more practice.
In The Feud, it is used to lure a snake into a basket in order to create a poison, while in Ratcatchers it is used to lure the rats of Port Sarim into the sea. After the quest, attempting to play the tune that charmed the rats will result in the player deciding not to play it at their current location.
In the Pyramid Plunder minigame, the charm can be used to distract the snakes that reside in the urns. To do this, first search an urn for a snake. Once a snake appears use the snake charm on the urn to play a distracting song for the snake, allowing you to loot the urn. There is still a chance you will get bit even after charming the snake.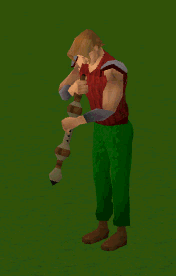 This is the only item in RuneScape that allows you to compose your own music (by playing it, menu opens up that allows you to pick how many holes you want to hold down for each note, allowing you to string brief tunes together).
Drop sources
Edit
This list was created dynamically. For help, see the FAQ.
To force an update of this list, click here.
For an exhaustive list of all known sources for this item, see here.
Disassembly
Edit
Ali calls the charm and the basket together his "snake charming super starter kit".
The snake charm plays in the key of D major.

However, the last hole combination on each page is an atonal note: a flatted 7th.
Ad blocker interference detected!
Wikia is a free-to-use site that makes money from advertising. We have a modified experience for viewers using ad blockers

Wikia is not accessible if you've made further modifications. Remove the custom ad blocker rule(s) and the page will load as expected.