Smoke Dungeon
Discuss

6
22,487pages
on this wiki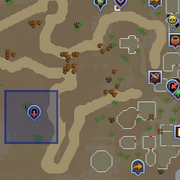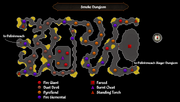 Please note: The smoke in this dungeon can NOT kill you, but the creatures inside it can.
The Smoke Dungeon is a winding tunnel underneath the Kharidian Desert. To reach it, players must have started Desert Treasure and progressed to the point of creating the scrying mirrors before being allowed to climb down the smoky well. This is a different well than the one accessed in Smoking Kills. It is visited during the Desert Treasure quest to obtain the Gale diamond from Fareed.
While in the dungeon the player must wear a face mask, gas mask, Slayer helmet, full slayer helmet or masked earmuffs to protect themselves from the smoke. From being in the Smoke Dungeon without a Face mask or similar protection, you will receive 200 damage every 12 seconds, although you will never fall below 10 LP. Needless to say, walking around with 10 LP is not a safe way to travel.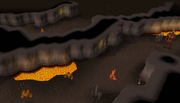 A Dark Hole in the south-east corner leads to the Pollnivneach Slayer Dungeon.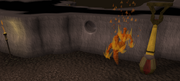 The Smoke Dungeon and the Chaos Tunnels are the only locations which contains Dust Devils which drop the Dragon chainbody. Dust devils can be ranged, maged, or attacked using a halberd very well since there are a lot of safe spots and they attack with ranged, however crush weapons are their weakness. If a dust devil attacks you without a facemask, 140 damage is inflicted every second (without the Face mask you get 200 damage every 12 seconds without fighting dust devils). The dungeon also includes Pyrefiends, Fire elementals and Fire giants.