The Smoke Dungeon is a winding tunnel underneath the Kharidian Desert west of Pollnivneach. It is visited during the Desert Treasure quest to obtain the Smoke diamond from Fareed. To reach it, players must have progressed to the point of creating the scrying mirrors before being allowed to climb down the Smokey Well, located west of the town. The dungeon can also be accessed from the top level of the Pollnivneach Slayer Dungeon by travelling left directly after entering the well.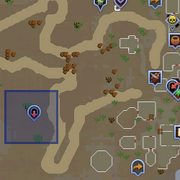 While in the dungeon, the player must wear a face mask, gas mask, Slayer helmet, full slayer helmet, Mask of Dust, Helm of Devilry, or masked earmuffs to protect themselves from the smoke.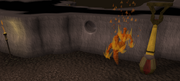 A "Dark Hole" in the south-east corner leads to the Pollnivneach Slayer Dungeon. In order to use this short-cut, you must have first used the stairs west of Catolax in the Pollnivneach Slayer Dungeon or your character will refuse to climb it because they would not know where it goes.
The Smoke Dungeon and the Chaos Tunnels are the only locations containing dust devils which drop the Dragon chainbody. The dungeon also includes pyrefiends, fire elementals and fire giants.
As the Chaos Tunnels prevents the use of a dwarf multicannon, the Smoke Dungeon is the only place where it can be used against dust devils.
A portion of Desert Treasure takes place in the dungeon. To retrieve the smoke diamond, the player lights the four standing torches to access the burnt chest, and then Fareed.
NPCs
Enemies
Items

Silver pots
Diamonds of Azzanadra
Unobtainable
 Fire

Scenery
Rewards
 Ring of visibility
Locations
Smoke Dungeon
Music
Miscellaneous
Asgarnia
Kandarin
Karamja
Kharidian Desert
Smoke Dungeon
Misthalin
Morytania
Fremennik Province
Feldip Hills
Wilderness
Troll Country & The North
Keldagrim
Tirannwn & Galarpos
Others
Ad blocker interference detected!
Wikia is a free-to-use site that makes money from advertising. We have a modified experience for viewers using ad blockers

Wikia is not accessible if you've made further modifications. Remove the custom ad blocker rule(s) and the page will load as expected.