Smithing cape
Discuss

3
22,462pages
on this wiki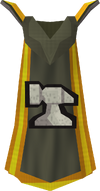 A Smithing cape can be purchased for 99,000 coins alongside the Smithing hood from Thurgo south of Port Sarim by players who have achieved level 99 Smithing. It is the Cape of Accomplishment for the Smithing skill. Smithing capes are grey in colour, and have a gold trim if the player has more than one level 99 skill. Getting 99 smith is considered expensive depending on the methods used.
As with all capes of accomplishment, when a player operates this cape, they will get a small boost to 100 Smithing. This is useful for repairing Barrows armour, as well as repairing Torva armour, Pernix armour and Virtus armour in a player owned house.
Combat Stats

| Class | Slot |
| --- | --- |
| All | |

Weapons
Main
Off
Damage
-
-
Accuracy
-
-
Type
-
-
Attributes
Armour rating

34

Life bonus

+0

Prayer bonus

2

Critical bonuses

2.0%

2.0%

2.0%

Compare item

A player wearing an untrimmed smithing cape

A player wearing a trimmed smithing cape

[view] • [talk]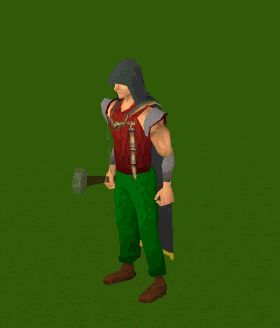 This skillcape's emote is the fourth longest among those of Capes of Accomplishment in the game, lasting approximately nine seconds, behind the Cooking cape's emote which lasts fourteen seconds, the Woodcutting cape's emote which lasts over eleven seconds, and the Max cape's emote which is exactly 25 seconds.
During the emote, the player is shown smithing white weapons and shears, which currently cannot be smithed by players.
The cape seller Thurgo has a white trimmed version of the cape, unlike the gold trim that players get if they have multiple 99s.
The icon of the anvil seems to be a little higher on a Smithing cape worn by a female.
Regular capes

Cape (black) • Cape (blue) • Cape (green) • Cape (orange) • Cape (pink) • Cape (purple) • Cape (red) • Cape (yellow)

Combat capes

Cape of legends • Fire cape • Moonclan cape • Lunar cape • Obsidian cape • TokHaar-Kal • Saradomin cape • Zamorak cape • Guthix cape • Spirit cape • Soul Wars cape (red) • Soul Wars cape (blue)

Capes of Accomplishment(m)

Agility • Attack • Constitution • Construction • Cooking • Crafting • Defence • Dungeoneering (Master) • Farming • Firemaking • Fishing • Fletching • Herblore • Hunter • Magic • Mining • Prayer • Ranging • Runecrafting • Slayer • Smithing • Strength • Summoning • Thieving • Woodcutting • Quest point

Capes of Distinction(m)

Classic cape • Veteran cape (5 year)10 year • Max cape • Completionist cape • Milestone capes(10)(20)(30)(40)(50)(60)(70)(80)(90)

Cloaks

Ardougne cloak(1)(2)(3)(4) • Fremennik cloak • Ghostly cloak • H.a.m. cloak • Warlock cloak • Witch cloak • Web cloak • Mourner cloak • Saradomin cloak • Zamorak cloak • Guthix cloak • Armadyl cloak • Bandos cloak • Ancient cloak • Clan cloak • Hati cloak • Hallowed cloak • Unhallowed cloak

Drapes
Non-combat, quest- and minigame-related capes

Eagle cape • Firecape • Spottier cape • Herald cape • Wicked cape • Cape of Validation • Monkey cape • Royal cape • Dragon ceremonial cape

Castle Wars(m)

Saradomin cloak • Zamorak cloak • Saradomin team cape • Zamorak team cape • Flag cape • Kills cape • Hobbyist cape • Enthusiast cape • Professional cape

Miscellaneous objects

Ava's attractor • Ava's accumulator • Ava's alerter • Bonesack(e) • Diving apparatus • Rambler's backpack