A small prismatic lamp is an item won on Treasure Hunter. It gives the same experience as a skill-specific small XP lamp.
From 26 July to 28 July 2013, this lamp gave a bonus of 50% additional experience. The promotion was introduced for a second time from 4 June to 12 June 2014.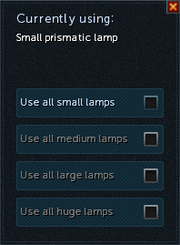 Note: If you use a small prismatic lamp on Dungeoneering, you will not be awarded with the dungeoneering tokens.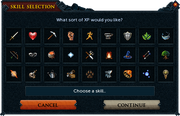 The following is an XP table detailing the number of experience received from a small prismatic lamp for any given skill level:
Skill level
Experience
Skill level
Experience
Skill level
Experience
1
62
34
559
67
2,269
2
69
35
583
68
2,379
3
77
36
608
69
2,470
4
85
37
635
70
2,592
5
93
38
662
71
2,693
6
104
39
691
72
2,809
7
123
40
720
73
2,946
8
127
41
752
74
3,082
9
194
42
784
75
3,213
10
153
43
818
76
3,339
11
170
44
853
77
3,495
12
188
45
889
78
3,646
13
205
46
929
79
3,792
14
229
47
970
80
3,980
15
252
48
1,012
81
4,166
16
261
49
1,055
82
4,347
17
274
50
1,101
83
4,521
18
285
51
1,148
84
4,762
19
298
52
1,200
85
4,918
20
310
53
1,249
86
5,033
21
324
54
1,304
87
5,375
22
337
55
1,362
88
5,592
23
352
56
1,422
89
5,922
24
367
57
1,485
90
6,121
25
384
58
1,546
91
6,451
26
399
59
1,616
92
6,614
27
405
60
1,684
93
6,928
28
414
61
1,757
94
7,236
29
453
62
1,835
95
7,532
30
473
63
1,911
96
8,064
31
493
64
2,004
97
8,347
32
514
65
2,108
98+
8,602
33
536
66
2,171
Squeal of Fortune and Treasure Hunter

Prismatic
Smouldering
Lamp of the Djinn
Christmas 2014
 Glowing
 Big glowing
Miscellaneous
 Farming XP
Quest related

Broken Home
The Death of Chivalry
Diamond in the Rough
 Combat XP
 Constitution XP
Dimension of Disaster
Dishonour among Thieves
Fate of the Gods
 Large prismatic
 Survivor's
Heart of Stone
The Light Within
Missing, Presumed Death
One of a Kind
Plague's End
A Shadow over Ashdale
Stolen Hearts
The Temple at Senntisten
 Combat
 Experience
The Mighty Fall
 50k XP
 75k XP
The World Wakes
Nomad's Elegy
Kindred Spirits
Gower Quest
 Ian's
 Andrew's
 Paul's
Easy task sets
Medium task sets
Hard task sets
Elite task sets
Meg (Player-owned port)

Small
Medium
Large
Huge
Miscellaneous

2015 Easter event
 Medium
 Huge
Battle of Lumbridge
Big Cats
 Small
 Medium
The Bird and the Beast
Broken Home
 Large
 Huge
Court Cases
 Attack XP
 Combat XP
 Defence XP
Events
Lumbridge Rebuildathon
 Small
 Medium
 Large
NIS lamp
 Small
 Medium
 Large
RuneScape Road Trip
 Large explorer's (2015)
Sinkholes
Tuska Comes
Up to Snow Good
 Small
 Large
Zodiac Training
Lucky challenge
Prifddinas
The Arc