The waxed sled is a device obtained and used during the Troll Romance quest. The player must make the sled and wax it to use it.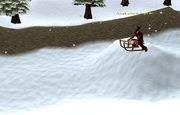 Disassembly
Edit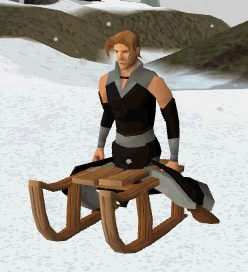 If players try to do an emote whilst on the sled, they will simply wave.
If players try to use the home teleport spell whilst on the sled, the player will remain on the sled but the circle that is drawn during the spell will appear to draw itself and the book appears to float.
The sled cannot be used anywhere other than Trollweiss mountain, making the aesthetic purpose almost useless.
If you teleport away while on the sled and your inventory is full, you will lose the sled with a message in your chat saying "You lost the sled!"
Ad blocker interference detected!
Wikia is a free-to-use site that makes money from advertising. We have a modified experience for viewers using ad blockers

Wikia is not accessible if you've made further modifications. Remove the custom ad blocker rule(s) and the page will load as expected.