Slayer training
Discuss

84
22,529pages
on this wiki
For the high-level powerslaying guide, click here.
Starting Out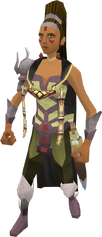 Get tasks from the highest-level Slayer master that your Slayer level allows because the monsters they assign generally give more experience than lower-level Slayer masters.
Access to Slayer Masters
Requirements or quests for accessing different Slayer masters and areas include:
Access to Slayer Monsters
These quests give access to new Slayer monsters. These slayer monsters will only be assigned after the completion of the required quest. Note that Waterfiends can only be assigned if you have spoken to Otto.
Getting to Slayer Monsters Quickly
The following transportation methods help slayers get to their tasks faster.
Recommended Items
Melee Weapons
The following weapons are suggested to use on general tasks.
Melee Armour
Anti-mage Armour
This armour is useful for Slayer monsters that use magic-based attacks, such as Bloodvelds or Pyrefiends.
Dragonhide armour - provides excellent and inexpensive magic defence, especially Royal dragonhide armour.
Karil's set is a much more expensive option, but has slightly better magic defence than Black dragonhide armour.
Spectral spirit shield is a very expensive but also very good shield. It has a +30 magic defence bonus. Sacred clay shield (magic) also has +30 magic defence, lower requirements and is free (as a reward from the minigame Stealing Creation). However, it degrades.
Infinity boots has a +5 magic defence bonus. Silly jester boots give the same bonus.
For those experienced in Dungeoneering, the Eagle-Eye Kiteshield is a good choice as it soaks up 14% of all received magic damage that would have hit for 200 life points or more and provides a +25 magic defence bonus, a bonus only 5 less than the expensive spectral spirit shield.
Void Knight equipment may also be used as it gives only 3 less than Black dragonhide armour yet can be worn at 42 ranged.
Ganodermic armour has excellent magic defense and absorb, and can make tasks easier, despite the high requirements and repair costs.
Food
Before going on a Slayer task, restore health to its maximum using cheap food or other methods. Consider your task's level, its environment, how much space you need for drops, your combat levels, how much you're willing to spend on food, and what equipment you will use, to determine which food(s) to bring and how much of it. Consider if there are food sources where you will be going. Consider bringing summoning pouches and summoning potions for bunyips or familiar that can store food. A full guthan's set is highly discouraged due to the fact that you cannot use a slayer helmet. A Saradomin Godsword or Enchanted Excalibur may be used, although they may not be enough. They also use the special attack bar which could have been used for an offensive special. Some tasks drop food (sometimes uncooked). Food can often and sometimes be unnecessary if the player has prayer potions and access to Soul Split, which can heal the player. If the player is only going to be attacked by one attack style prayer potions and a protect or deflect prayer can be much faster and efficient (although this is not recommended for slaying monsters that don't hit a lot of damage, due to the much higher cost compared to most types of food).
See Calculators/Food healed for a detailed cost per lifepoint breakdown.
Other Useful Items
Dramen staff or Lunar staff. You don't have to finish the whole Fairy Tale II quest, just do it until the middle when you are allowed to use the rings. If you finish Fairytale III - Battle at Orks Rift, you can use the Fairy Rings without needing the Dramen or Lunar staff, saving you an inventory space. It can also be useful for accessing Kuradal in the ancient cavern using the fairy ring code BJQ.
Enchanted Gem or Ring of Slaying to check how many kills you have left in your assignment. The Ring of Slaying also provides teleport to several locations. The Relleka Slayer Caves teleport bring the player close to a fairy ring. The Sumona teleport will bring the player close to the slayer master and the smoke dungeon.
Combat stat-boosting potions (such as a Super set). These are a must-have for slayer. The time saved from using these will easily compensate for the price of the potions. Use extremes if you can. Overloads are not efficient since it takes time to make Overloads, which actually makes the task take longer, all things considered. For some people, extreme or super defence potions are not needed, since they can tank the damage with Bandos armor alone. In that case, don't bring it.
A fast method of teleportation. A house tab is a good idea, since it takes up one inventory space, is stackable, and can take you to your house, which may contain many teleports, an altar, and a summoning obelisk.
Karamja gloves 3 can be useful for accessing Duradel, using the Shilo Village gem mine teleport. It also gives free entry into Brimhaven Dungeon if your planning to kill monsters there.
Bones to Peaches is useful for monsters that drop bones, for those desperate for food.
Energy potions and/or Super energy potions for getting around quickly.
Summoning pouches and scrolls - Beasts of Burden to carry extra supplies or drops; Healers to reduce food consumption or eliminate the need for it altogether. Combat familiar pouches for faster experience. The highest leveled players will use a steel titan with their helmet and their inventory loaded with special attack scrolls for faster tasks even on dragon tasks, using a bonecrusher for those tasks. A unicorn would be brought if a steel titan may not.
Holy wrench - Boosts the amount that prayer restoring potions regenerate. It is worth bringing for tasks with empty inventory spaces left over.
Broomstick or Pollnivneach tablet - For those without a Ring of Slaying, a chipped house tablet may be used, although it required the quest Love Story to be done. A broomstick teleport along with a carpet ride is also a semi-decent way to reach Sumona or the Smoke Dungeon.
Runes for NPC Contact - Allows the player to quickly get a new task after finishing one.
Ferocious Ring - This is the best ring to use in Kuradal's dungeon, and allows fast teleport to Kuradal.
Tokkul-Zo - It has semi-decent stats, as it offer +4 to all offensive stats other than strength. It's fight caves and fight kiln teleports puts the player right next to a bank, and next to a fairy ring for the fight cave teleport. This ring provides an extra 10% damage against Tzhaar monsters, making it the best ring for those tasks.
Dwarf multicannon and Cannonballs - for faster killing in multicombat areas; moderately expensive to use but usually speeds tasks and experience up considerably; faster kill rates mean time saved that could have been spent doing more slayer or making money to make up for the cost of cannonballs. Althought higher leveled players would find cannoning all possible tasks to be the most efficient route, lower leveled players or those on a budget should consider cannoning only the tasks in multicombat (Dagganoths, Hellhounds, Aberrant spectres, Mutated Bloodvelds, Suqahs, Greater Demons, and Kalphites). Keep in mind that cannoning also trains ranging. It is efficient to cannon, but it is not as efficient to range a task.
Ranging Armour and Weapons
Please keep in mind that if you already have 99 ranged, meleeing your tasks would be much more efficient, since meleeing would lead to much faster tasks.
Void vs Full Slayer Helm/Focus Sight
Void provides a 20% Ranged damage bonus (10% Boost to Range + 10% boost to Ranged Strength = 20% Damage boost), but only a 10% boost to accuracy. This means that for low defence monsters, especially when coupled with a Deflector, you should use Void + Darts. On higher defence tasks, such as Metal Dragons, you may find that the accuracy of full dragonhide/karil's/Armadyl + a Full Slayer Helm/Focus Sight to be of great importance.
Player-Owned Houses
Some players use their house as an advantage to quickly train slayer.
Note that there are many cases where using player-owned houses are not the most efficient method, not all of the following advantages are relevant to those who have unlocked high level teleportations.
After the quest Love Story, using Teleport to House tabs with a chisel can allow players to any POH portal without moving their house.
Quest Experience
Total: 476,000 Experience
Summoning
There are generally three types of familiars used to help with completing slayer tasks, Beasts of Burden, Healers and Fighters.
Beast of Burden familiars increase a player's inventory size which allows for longer stays on slayer assignments by either allowing the player to bring more food and/or equipment allowing the player to pick up more looted items before having to return to the bank.
Healer familiars provide sources of health restoration. This may consist of a constant heal over time, a scroll use spell, or the capability of creating food to eat. A healer familiar will still heal a player even if that player has no Summoning points left.
Fighter type familiars make up the largest portion of familiars and can also be a Beast of Burden or a Healer familiar. The use of a familiar as a fighter for slayer task is limited as they can only be used in multi-combat areas. When using a familiar to attack slayer xp will be halfed if the familiar deals the last blow or more than half the damage.
A fourth class of familiar, skill enhancing familiars, may be selected for a specific task to receive a desired effect. Example of this would be using a Macaw familiar while on an Aberrant Spectre assignment to improve the quality of herbs dropped.
Regardless of what class of familiar is selected, some thought must be taken when selecting a familiar for a particular slayer assignment. What works for one player may not work for another. Factors for selecting a familiar are location (multi-combat versus single combat), a player's combat level, gear and method of attack for the assignment, a player's desired effect (faster kills, longer session, better drops) and what a particular familiars a player has access to. For example, it would be better to bring a Pack Yack to a Metal Dragons task if ranging due to the fact you will not get hurt as much, due to free inventory space being a luxury. Compare this to a meleer, who gets hit all the time (save halberds, which are slow and should only be used as a special attack weapon) may want to bring a Unicorn. Another example would be using a Bunyip over a Unicorn on a Waterfiend task. Waterfiends drop tons of raw food if you ever get hurt, so it would be more cost-efficient to use a Bunyip here over a Unicorn.