Slayer cape
Discuss

15
22,504pages
on this wiki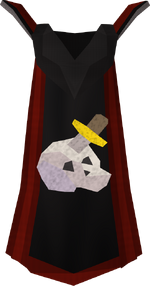 A
Slayer cape
is the
Cape of Accomplishment
for players who have achieved level 99 in the
Slayer
skill. The cape can be purchased for 99,000
coins
alongside the
Slayer hood
from
Kuradal
, a
Slayer Master
in the
Ancient Cavern
. The Slayer cape is currently the 4th rarest skillcape after the
Farming cape
.
Slayer capes are black in colour, and have a red trim if the player has more than one level 99 skill. Kuradal will talk to you when buying a cape, regardless of your Combat level, which means she also sells the Slayer cape to players under 160 combat (the level required to get tasks from her). You also need 45 Firemaking OR 15 Strength to enter the cave, with completion of the Barbarian Training to access Kuradal and the Slayer cape.
It is difficult to obtain 99 Slayer before any other skill, since Constitution experience is gained at a faster rate. However, people have managed to achieve this through the use of:
Combat Stats

| Class | Slot |
| --- | --- |
| All | |

Weapons
Main
Off
Damage
-
-
Accuracy
-
-
Type
-
-
Attributes
Armour rating

34

Life bonus

+0

Prayer bonus

2

Critical bonuses

2.0%

2.0%

2.0%

Compare item

A player wearing an untrimmed slayer cape

A player wearing a trimmed slayer cape

[view] • [talk]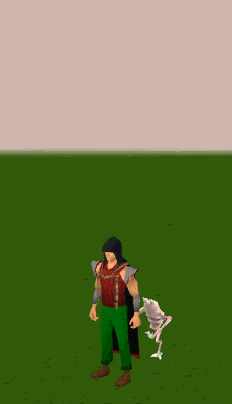 It is possible for a level 4 to get 99 slayer and the slayer cape (you can still gain entrance to the cave without participating in the strength activity). You can do this with the methods mentioned above (minus the controlled attack style and Dwarf Multicannon, since both will raise your Melee and Ranged skills, respectively.). Another way to get 99 slayer at level four is to use the Soul Wars activity and buy slayer experience. An alternative method is to use experience rewards (from lamps, penguin points, zeal points etc.). Many skillers 'train' Slayer this way. 99 Slayer through soul wars and penguin spotting will still take in excess of 4000 hours, however.
Before the release of Kuradal on 8 December 2009, Duradel/Lapalok sold the Slayer cape. This was the second of the Capes of Accomplishment to change owners.
While performing the slayer cape emote, you jump nearly as high as when you would be doing the agility emote.
Regular capes

Cape (black) • Cape (blue) • Cape (green) • Cape (orange) • Cape (pink) • Cape (purple) • Cape (red) • Cape (yellow)

Combat capes

Cape of legends • Fire cape • Moonclan cape • Lunar cape • Obsidian cape • TokHaar-Kal • Saradomin cape • Zamorak cape • Guthix cape • Spirit cape • Soul Wars cape (red) • Soul Wars cape (blue)

Capes of Accomplishment(m)

Agility • Attack • Constitution • Construction • Cooking • Crafting • Defence • Dungeoneering (Master) • Farming • Firemaking • Fishing • Fletching • Herblore • Hunter • Magic • Mining • Prayer • Ranging • Runecrafting • Slayer • Smithing • Strength • Summoning • Thieving • Woodcutting • Quest point

Capes of Distinction(m)

Classic cape • Veteran cape (5 year)10 year • Max cape • Completionist cape • Milestone capes(10)(20)(30)(40)(50)(60)(70)(80)(90)

Cloaks

Ardougne cloak(1)(2)(3)(4) • Fremennik cloak • Ghostly cloak • H.a.m. cloak • Warlock cloak • Witch cloak • Web cloak • Mourner cloak • Saradomin cloak • Zamorak cloak • Guthix cloak • Armadyl cloak • Bandos cloak • Ancient cloak • Clan cloak • Hati cloak • Hallowed cloak • Unhallowed cloak

Drapes
Non-combat, quest- and minigame-related capes

Eagle cape • Firecape • Spottier cape • Herald cape • Wicked cape • Cape of Validation • Monkey cape • Royal cape • Dragon ceremonial cape

Castle Wars(m)

Saradomin cloak • Zamorak cloak • Saradomin team cape • Zamorak team cape • Flag cape • Kills cape • Hobbyist cape • Enthusiast cape • Professional cape

Miscellaneous objects

Ava's attractor • Ava's accumulator • Ava's alerter • Bonesack(e) • Diving apparatus • Rambler's backpack