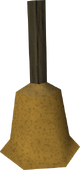 A Slayer bell is a piece of Slayer equipment that can be rung to lure molanisks off walls. A Slayer level of 39 is required to operate this item. Slayer bells can be purchased from any Slayer master for 150 coins.
When the bell is rung, the ring is clearly audible to other players. You do not need a Slayer level of 39 just to ring it, but it won't provide any benefits without the required level.
Store locations
Edit
This list was created dynamically. For help, see the FAQ.
To force an update of this list, click here.
Disassembly
Edit
There was a glitch where you could ring the bell and move but other players didn't see you move until the animation finished. This was used for rushing.
Ad blocker interference detected!
Wikia is a free-to-use site that makes money from advertising. We have a modified experience for viewers using ad blockers

Wikia is not accessible if you've made further modifications. Remove the custom ad blocker rule(s) and the page will load as expected.