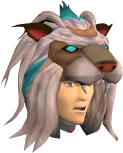 The Skypouncer outfit set was available through purchasing either a £20/$25 game card or new 3-month membership subscription between 21 March and 30 April 2013.It is not available from Solomon's General Store. On 22 October 2013, the set became available to all players who had purchased the Gold Premier Club. The set consists of:
Skypouncer headpiece
Skypouncer chestpiece
Skypouncer legwear
Skypouncer gloves
Skypouncer boots
Skypouncer cape
The outfit was only available for 3 months membership, and wouldn't be received if more than 3 months were purchased.
Ad blocker interference detected!
Wikia is a free-to-use site that makes money from advertising. We have a modified experience for viewers using ad blockers

Wikia is not accessible if you've made further modifications. Remove the custom ad blocker rule(s) and the page will load as expected.