Ad blocker interference detected!
Wikia is a free-to-use site that makes money from advertising. We have a modified experience for viewers using ad blockers

Wikia is not accessible if you've made further modifications. Remove the custom ad blocker rule(s) and the page will load as expected.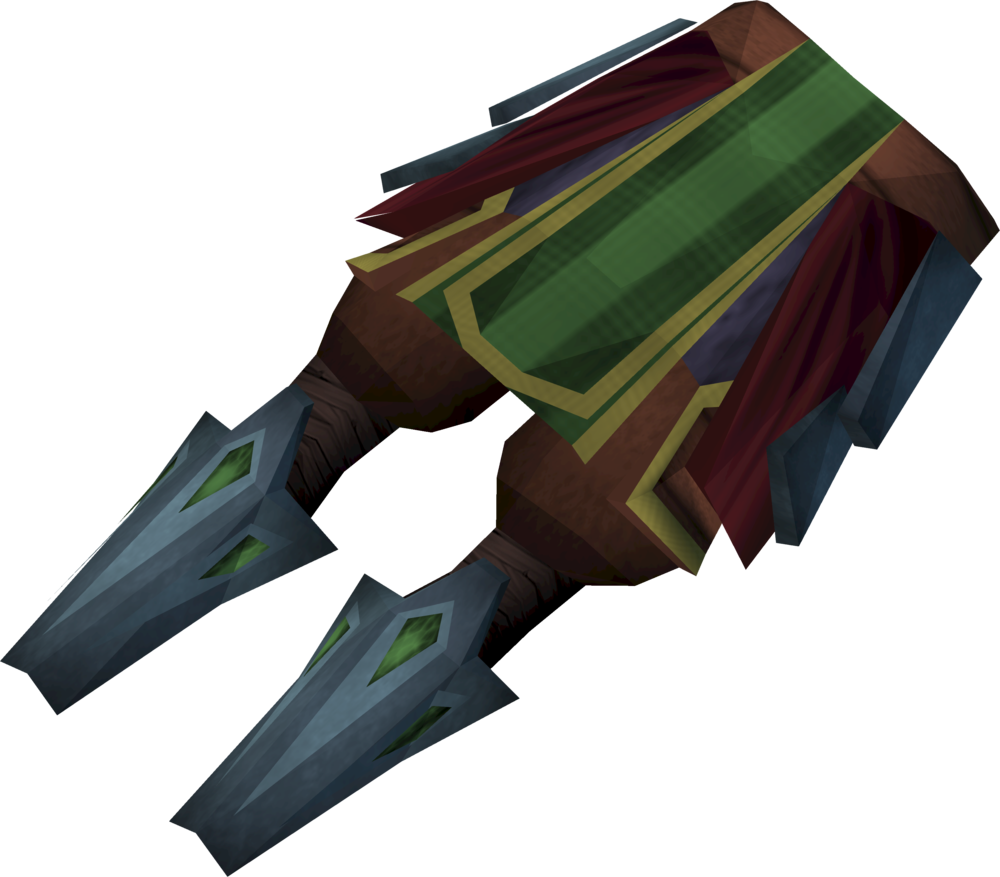 The skirmisher tassets is pair of ranging tassets from the skirmisher armour. It is a rare prize from the Treasure Hunter. As it has combat stats, Diango charges a fee of 50,000 coins to recover it after being destroyed. At the fifth tier, Black Dragonhide Chaps have slightly better combat bonuses, but weigh significantly more.
Combat Stats
Requirements
20
Class
Slot
Ranged
Tier
Type
18
Tank armour
Weapons
Main
Off
Damage
-
-
Accuracy
-
-
Style
-
Range
-
Attributes
Damage reduction
Armour
64
PvM:

0.36%

PvP:

0.945%

Life points
0
Style bonuses
Prayer
0

0

0

0

[FAQ] • [doc]
Combat Stats
Requirements
30
Class
Slot
Ranged
Tier
Type
27
Tank armour
Weapons
Main
Off
Damage
-
-
Accuracy
-
-
Style
-
Range
-
Attributes
Damage reduction
Armour
89
PvM:

0.54%

PvP:

1.4175%

Life points
0
Style bonuses
Prayer
0

0

0

0

[FAQ] • [doc]
Combat Stats
Requirements
40
Class
Slot
Ranged
Tier
Type
36
Tank armour
Weapons
Main
Off
Damage
-
-
Accuracy
-
-
Style
-
Range
-
Attributes
Damage reduction
Armour
121
PvM:

0.72%

PvP:

1.89%

Life points
0
Style bonuses
Prayer
0

0

0

0

[FAQ] • [doc]
Combat Stats
Requirements
50
Class
Slot
Ranged
Tier
Type
46
Tank armour
Weapons
Main
Off
Damage
-
-
Accuracy
-
-
Style
-
Range
-
Attributes
Damage reduction
Armour
166
PvM:

0.92%

PvP:

2.415%

Life points
0
Style bonuses
Prayer
0

0

0

0

[FAQ] • [doc]
Combat Stats
Requirements
60
Class
Slot
Ranged
Tier
Type
56
Tank armour
Weapons
Main
Off
Damage
-
-
Accuracy
-
-
Style
-
Range
-
Attributes
Damage reduction
Armour
222
PvM:

1.12%

PvP:

2.94%

Life points
0
Style bonuses
Prayer
0

0

0

0

[FAQ] • [doc]
Tank
Power
Barrows
Minigame
 Sacred clay
Promotional
 Skirmisher
 Starfire
 Starfury

Treasure Trail

Trimmed
 Studded
 Green
 Blue
Gold trimmed
 Studded
 Green
 Blue
Blessed dragonhide
Dyed
Other
 Armadyl robe
 Third-age range