This article is about the skeleton set obtained during the 2006 Hallowe'en event. For the Fremennik armour, see Skeletal armour.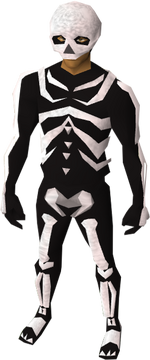 Skeleton sets (or Spooky sets) were Holiday rewards received from the 2006 Hallowe'en event. The costume gives no bonus to any statistics.
In order to receive the costume, players were required to banish different coloured ghosts with Ghost Busters. If lost or destroyed, the outfit can be reclaimed from Diango in Draynor Village. In addition, all of the costume items may be stored in the costume room of a player-owned house. The skeleton costume set has long been discontinued.
The various parts of the Skeleton set could be used as part of a player's costume during the 2006 Hallowe'en Event. The set consists of the following:
Hallowe'en
Christmas
Easter
Thanksgiving
Cryptic Clue Fest
RuneFest
Commemorative
Other
NPCs

Poltergeists
Possessed toys

Items
Rewards
Music
Other
Ad blocker interference detected!
Wikia is a free-to-use site that makes money from advertising. We have a modified experience for viewers using ad blockers

Wikia is not accessible if you've made further modifications. Remove the custom ad blocker rule(s) and the page will load as expected.