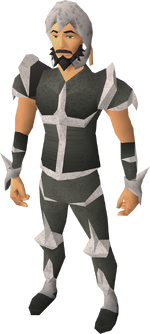 Skeletal armour is Fremennik armour for mages that can only be made by going to Waterbirth Island. The armour is a lower-level Power set, requiring 50 Defence, and most of the set can only be worn after completion of The Fremennik Trials. When the full set of skeletal armour is worn (boots and gloves not needed), the title "Skullbearer" is added to the player's Fremennik name.
Skeletal armour may be placed in a magic wardrobe within the Costume room of a player-owned house, so that the armour set does not take up bank space. This armour should not be confused with the Skeleton set holiday items given out for the 2006 Hallowe'en event. The holiday skeleton set gives no bonuses in any stat.
Acquiring skeletal armour
Edit
Skeletal pieces are only dropped by Wallasalkis, who also drop skeletal gloves and skeletal boots. The dagannoth hides are dropped by dagannoths. Once the raw materials have been obtained, it can be brought to Peer the Seer in Rellekka to be made into the skeletal armour for a fee. Dagannoth Prime drops skeletal tops and skeletal bottoms. All pieces can also be traded on the Grand Exchange.
Armour
Skeletal piece
Hide(s)
Fee
Profit
Skeletal helm

8,066

1 skull piece

2,225

1 dagannoth hide

3,870

5,000

-3,029

Skeletal top

30,533

1 ribcage piece

3,610

3 dagannoth hide

11,610

10,000

5,313

Skeletal bottoms

34,987

1 fibula piece

3,594

2 dagannoth hide

7,740

7,500

16,153

Skeletal gloves

60,211

Not crafted
Skeletal boots

81,479

Total

215,276
Components and bonuses
Edit
Ad blocker interference detected!
Wikia is a free-to-use site that makes money from advertising. We have a modified experience for viewers using ad blockers

Wikia is not accessible if you've made further modifications. Remove the custom ad blocker rule(s) and the page will load as expected.