Skeletal hand
Discuss

3
22,528pages
on this wiki
Skeletal hand
Release date
22 April 2008 (Update)
Members?
Yes
Combat level
80
XP per kill
Unknown edit
Slayer level
5
Slayer XP
100
Assigned by
Turael or Spria, Chaeldar
Always drops
Bones
Examine text
A giant, skeletal hand - I don't think I should offer to shake hands.

Combat stats
LP
Max hit
1000
130 (approx)
Attack
Defence
Ranged
Magic
Unknown
Unknown
Unknown
Unknown
Other
Immune to Poison?
Immune to Stun?
No
No
Attack Speed

Speed 6 (Interval: 2.4 seconds)

Aggressive?
Poisonous?
No (Yes if they drop from ceiling/dig up from ground)
No
Attack style
Weaknesses
Melee

Fire spells
Salve amulet
Salve amulet (e)

[view template]
Skeletal hands appear in the Meiyerditch Dungeon, together with Mutated bloodvelds and Zombie hands. Even though it's not aggressive by itself, at any time when you are in the dungeon, one might fall from the ceiling or crawl from underground and start attacking you. The Meiyerditch Dungeon can only be accessed during and after the Legacy of Seergaze quest.
Skeletal hands may be killed instead of Crawling hands and Skeletons for Slayer tasks, yielding more experience and better drops. Attacking skeletal hands will occasionally cause skeletal hands hanging from ceiling or buried in the ground to appear and attack you. They can deal considerable damage for their level, so food or Protect from Melee may be helpful.
Tip: Use Salve Amulet or Salve amulet (e) with a slashing weapon to increase damage inflicted on these opponents.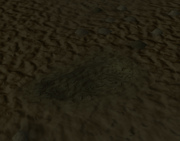 100% Drop
Edit
Weapons and armour
Edit
Jewellery
Edit
When this monster falls from the ceiling and emerges from the floor, it could be a reference to Wallmasters and Floormasters from the Legend of Zelda series.
It is unknown how these drop corpses as they appear to have no flesh whatsoever.
Slayer Tower

Crawling Hand • Banshee • Infernal Mage • Bloodveld • Aberrant spectre • Gargoyle • Nechryael • Abyssal demon

Fremennik Slayer Dungeon

Cave crawler • Rockslug • Cockatrice • Pyrefiend • Basilisk • Jelly • Turoth • Kurask • Aquanite

Lumbridge Swamp Caves
Poison Waste Slayer Dungeon
Pollnivneach Slayer Dungeon

Banshee (Mighty) • Cave crawler (Monstrous) • Basilisk (boss) • Turoth (Mightiest and Swarming turoth) • Kurask (overlord) • Aberrant spectre

Meiyerditch Dungeon

Zombie hand • Skeletal hand • Bloodveld • Mutated bloodveld

God Wars Dungeon

Pyrefiend • Bloodveld • Spiritual ranger • Spiritual warrior • Spiritual mage

Jadinko Lair

Mutated jadinko baby • Mutated jadinko guard • Mutated jadinko male

Polypore Dungeon

Grifolaroo • Grifolapine • Ganodermic runt • Ganodermic beast

Daemonheim

Crawling hand • Cave crawler • Cave slime • Pyrefiend • Night spider • Jelly • Spiritual guardian • Seeker • Nechryael • Edimmu • Soulgazer

Others

Gelatinous Abomination • Desert Lizard • Mogre • Harpie Bug Swarm • Killerwatt • Molanisk • Terror dog • Brine rat • Fever spider • Mutated zygomite • Cave horror • 'Rum'-pumped crab • Dust devil • Skeletal Wyvern • Jungle strykewyrm • Desert strykewyrm • Dark beast • Ice strykewyrm

Specials

Bork • Skeletal horror • Phoenix • Jade vine(wild)

Slayer pets

| | |
| --- | --- |
| Soul Wars | Creeping hand • Minitrice • Baby basilisk • Baby kurask • Abyssal minion • TzRek-Jad |
| Social Slayer | |
| Other | Cresbot |