Skeletal hand
Discuss

3
26,590pages on
this wiki
Skeletal hand
Release date
22 April 2008 (Update)
Members?
Yes
Combat level
70
XP per kill
Unknown edit
Always drops
Bones
Examine text
A giant, skeletal hand - I don't think I should offer to shake hands.
Slayer info
Slayer level
5
Slayer XP
63.5
Assigned by
Turael or Spria, Chaeldar

Combat info
LP
Max hit
3,500
130 (approx)
Attack
Defence
Ranged
Magic
Unknown
Unknown
Unknown
Unknown
Immune to Poison?
Immune to Stun?
No
No
Attack Speed

Speed 6 (Interval: 2.4 seconds)

Aggressive?
Poisonous?
No (Yes if they drop from ceiling/dig up from ground)
No
Attack style
Weaknesses
Melee

Fire spells
Salve amulet

[view]

Skeletal hands appear in the Meiyerditch Dungeon, together with Mutated bloodvelds and Zombie hands. Even though it's not aggressive by itself, at any time when you are in the dungeon, one might fall from the ceiling or crawl from underground and start attacking you. The Meiyerditch Dungeon can only be accessed during and after the Legacy of Seergaze quest.
Skeletal hands may be killed instead of Crawling hands and Skeletons for Slayer tasks, yielding more experience and better drops. Attacking skeletal hands will occasionally cause skeletal hands hanging from ceiling or buried in the ground to appear and attack you. They can deal considerable damage for their level, so food or Protect from Melee may be helpful.
Tip: Use Salve Amulet or Salve amulet (e) to increase damage inflicted on these opponents.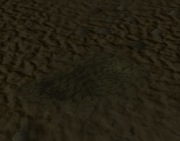 100% Drop
Edit
Weapons and armour
Edit