Sister Elena is an elderly nun in the Abbey of Saint Elspeth Citharede.
In the quest, she is the first victim of the Killer. She had a relationship with Valerio, although this was apparently finished when Sister Anna found the letters that were sent between them. However, both Elena and Valerio still continued to have a secret relationship. She used the tunnel in the kitchen to sneak Valerio into the kitchen, which is also how the mysterious killer escaped after killing her.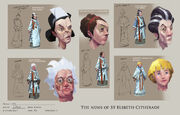 High Priest
Abbot
 Langley
 Benita
Father
Brother
Sister
Other
† denotes that a priest or priestess is deceased, ‡ denotes that a priest or priestess is no longer a Saradominist
Ad blocker interference detected!
Wikia is a free-to-use site that makes money from advertising. We have a modified experience for viewers using ad blockers

Wikia is not accessible if you've made further modifications. Remove the custom ad blocker rule(s) and the page will load as expected.