Sister Debora is an elderly former clockmaker and nun of the Abbey of St. Elspeth Citharede.[1] She is responsible for maintaining the clock in the abbey's clocktower.[1] She was often assisted by Sister Catherina.[2] She often speaks using clock metaphors. Years of maintaining the clock, especially when the bell is chiming, have left her hard of hearing,[3] and she often confuses similarly sounding words like "troubadour" and "minotaur".
When first met while investigating the murder of Sister Anna, she was lying under the clock mechanism and is labelled as "Feet". She mistook the investigator for Sister Catherina and requested their aid in correcting the clock's time. When that was done, she came out from underneath and answered their questions. After the Killer "killed" Sister Cabbage, they fled to the clocktower and took Sister Debora hostage, revealing herself to be a demented Sister Anna. When the clock bell rang, Sister Debora managed to get free and disarmed Sister Anna before fleeing. After Sister Anna fell to her death, Sister Debora left it up to the investigator whether or not to reveal the truth of the killer's identity to Abbess Benita and Valerio, claiming they were the "clockmaker".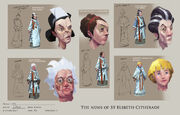 High Priest
Abbot
 Langley
 Benita
Father
Brother
Sister
Other
† denotes that a priest or priestess is deceased, ‡ denotes that a priest or priestess is no longer a Saradominist
Cite error: <ref> tags exist, but no <references/> tag was found
Ad blocker interference detected!
Wikia is a free-to-use site that makes money from advertising. We have a modified experience for viewers using ad blockers

Wikia is not accessible if you've made further modifications. Remove the custom ad blocker rule(s) and the page will load as expected.