Ad blocker interference detected!
Wikia is a free-to-use site that makes money from advertising. We have a modified experience for viewers using ad blockers

Wikia is not accessible if you've made further modifications. Remove the custom ad blocker rule(s) and the page will load as expected.
Sister Debora is an old, former clockmaker introduced along with the One Piercing Note quest. Before a certain point in the quest she can be seen as "Feet", as she lies under clock mechanism in the clocktower of  the Abbey of St. Elspeth Citharede. The player must help her with setting up the correct time on the clock, after which she then appears from underneath and can be questioned about the murder of Sister Anna. Debora is quite deaf now, claiming to be so because of being near the clock when it chimes for such long periods of time. All of her dialogue is voice-acted.
During the quest, Sister Anna will hold her hostage and threaten to kill her if the player tries to stop her. After being released, she lets the player decide whether to tell Sister Benita and Valerio that the Ripper was the killer or that it was Sister Anna. If the player lies, then after the quest, Sister Debora will tell the player that they were the "clockmaker," and it was up to them how to wrap up the mystery.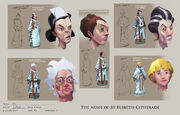 High Priest
Abbot
 Langley
 Benita
Father
Brother
Sister
Other
† denotes that a priest or priestess is deceased, ‡ denotes that a priest or priestess is no longer a Saradominist