Sister Cabbage is a dummy composed of a cabbage and a set of Citharede robes hanging from a candelabrum. The dummy is used to lure the Killer responsible for the murders of Sisters Anna, Elena, and Catherina. Sister Cabbage was publicly announced to be a dancing girl of Valerio's troupe who wanted to join the Abbey of St. Elspeth Citharede. The trap worked, the killer "killing" Sister Cabbage, but escaping before they could be captured.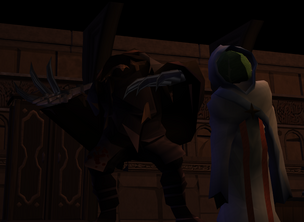 High Priest
Abbot
 Langley
 Benita
Father
Brother
Sister
 Anna†‡
 Cecilia
 Debora
 Judith
Cabbage†
Lara†
Other
† denotes that a priest or priestess is deceased, ‡ denotes that a priest or priestess is no longer a Saradominist
Ad blocker interference detected!
Wikia is a free-to-use site that makes money from advertising. We have a modified experience for viewers using ad blockers

Wikia is not accessible if you've made further modifications. Remove the custom ad blocker rule(s) and the page will load as expected.