Sir Vile was an egocentric Kinshra spymaster planted inside the order of the White Knights. His time spent amongst the White Knights eventually led to him renouncing Zamorak and formally joining the White Knights. Nomad joined him as an acolyte in order to keep up to date with the activities of the newly returned Gods, but later killed him after learning of his betrayal.
Memories of him appear during the Tales of Nomad miniquest, which show him conversing with Nomad in the White Knights' Castle courtyard, and being killed outside the Black Knights' Fortress.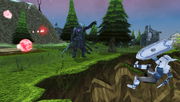 His name is a pun on the word "servile".
Knights
Squires and attendants
Ad blocker interference detected!
Wikia is a free-to-use site that makes money from advertising. We have a modified experience for viewers using ad blockers

Wikia is not accessible if you've made further modifications. Remove the custom ad blocker rule(s) and the page will load as expected.