Sir Tendeth is a Temple Knight from the quest Ritual of the Mahjarrat and is the contact on Mos Le'Harmless that the player meets to progress in the quest. Shortly after following the player into the jungle, he is hit and killed by a Dragonkin's fireball.
His name is a play on the phrase "certain death", foreshadowing his quick death at the beginning of the quest.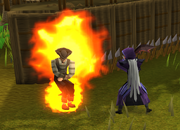 Active
Retired or deceased
Other
Ad blocker interference detected!
Wikia is a free-to-use site that makes money from advertising. We have a modified experience for viewers using ad blockers

Wikia is not accessible if you've made further modifications. Remove the custom ad blocker rule(s) and the page will load as expected.