Sir Owen
Discuss

9
22,529pages
on this wiki

Sir Owen, is one of the seven Signature Heroes first announced in the Development Diary 'Who are the Signature Heroes?'. He is also one of the main characters in the Three's Company Saga. When talking with him, he makes comments on some of your completed quests.
Personality
Edit
Sir Owen is a devout Saradominist and a Temple Knight. He takes a harsh view of stealing or other criminal activities, even for noble purposes. Although a classic "knight-in-shining-armour" type, he is not above using stealth or subterfuge to achieve his goals.[1] He is entirely confident that his actions are made with Saradomin's approval, and is willing to use any means to achieve his goals.
Capabilities
Edit
Sir Owen is a proficient Melee fighter, and is also implied to have a decent Ranged level. In the Fremennik Saga, Three's Company, he has a Constitution level of 30 and a Mining level of at least 50. He is also implied to have a high Strength level. Due to the image of Sir Owen wielding a Saradomin Sword in the new Troll Warzone trailer, it is assumed that he has an Attack level of at least 75.
He does not have a high Agility level, though, and does not use Magic or Runecrafting. He uses jewellery to teleport rather than casting teleport spells.
Sir Owen was born in Falador. He worked his way up the ranks of the White Knights, but was on the verge of being dismissed until he was recruited by the Temple Knights. He is now one of the best Temple Knights, and has been given leave to pursue their aims independently.
RuneScape Cinematic Trailer
Edit
Sir Owen plays a part in the RuneScape cinematic trailer that can be watched here.
The trailer opens in the druidic village of Taverley, where Sir Owen and Ariane are talking on a balcony while Ozan wanders past a couple of girls in the street below.
Suddenly, a gigantic
troll
appears and wreaks havoc before charging straight at Ozan, who dodges the first swing of the troll's enormous axe, but the scene changes to an Ozan's flashback when he couldn't evade the second strike.
The Raptor saves Ozan by slamming into the troll's axe shield-first. As the troll attempts to grab him, Sir Owen leaps off the balcony railing and smashes its right arm to little effect, and is shoved aside into a pillar. Ariane seizes her chance and hit it with a continuous stream of ice, freezing it solid. Ozan then shoots an arrow into the creature's chest, shattering it into blocks of frozen troll.
After the RuneScape icon appears and disappears, three more trolls are seen charging.
Locations
Edit

The courageous Sir Owen
(
link
)
Sir Owen can be found in many places around RuneScape.
Since the 9 August 2011 updates, Sir Owen, like the other Signature Heroes, wanders around several places in RuneScape. These places include:
Places where Sir Owen can be found at any time include:
There are some places Sir Owen will appear only once, or until the player speaks to him there for the first time. These include:
Quest and Miniquest Appearances
Edit
The first quest or miniquest to feature Sir Owen is in the Fremennik Saga Three's Company, where he is a Playable character. He also plays a role in the Burthorpe tutorial, Where you help him defeat a giant Troll named Anvil.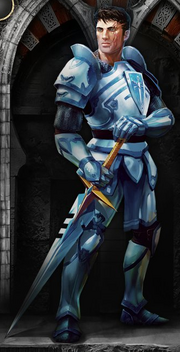 Sir Owen was originally named Sir Ewain, and originally had blond hair and no scar on the left half of his face.
His chathead seems to be one of the first to make use of new hair effects and detailed features, such as an intricate scar and a different jawline.
He is the only Temple Knight (outside the novels) to have a name which is not a pun.  Although his name is an anagram of "Rise Now" commonly said during a knighting process.
In his artwork, he looks similar to the actor Sylvester Stallone, when he was younger.
His quotation "I'm here to kick ass and take names ... and I'm a Temple Knight so I already know your names." is a reference to the 1988 movie "They Live", which was prominently recapped in Duke Nukem.
Sir Owen's teleport animation after his conversation with Sir Tiffy Cashien is that of an enchanted jewellery teleport, suggesting that he uses such items to move around instead of teleporting himself.
Jagex previously had plans to feature him in a new quest called Tome Raider, but this was later cancelled.
Sir Owen seems to be wielding a Saradomin sword in his artwork, which suggests that he has at least 75 Attack.
It is rather odd for Owen to help out in Burthorpe, since Falador has a rivalry with the Imperial Guard.
In the Runescape cinematic trailer, Owen is "voiced" by Mod Moltare.
The old version of Owen is found on the login screen.
When Sir Owen is found on Entrana, he will be missing his armor and sword, as those are forbidden on the island. Instead, he will be wearing clothing with a colour scheme similar to his armor.
Owen seems to be wearing the Paladin top and bottom with the navy blue color.
References
Edit