Sir Amik Varze
Discuss

5
22,527pages
on this wiki

RuneScape uses the British convention for floor numbering: Ground floor, first floor, second floor, etc.
Loading...


Sir Amik Varze is Asgarnia's current ruler in the place of the King of Asgarnia, King Vallance. He is also the leader of the White Knights of Falador. He has association with the Temple Knights. As with many of the White Knights and Temple Knights, his name is a play on words; when spoken with a non-rhotic accent, it sounds like ceramic vase. Sir Amik Varze is also a member of the Lumbridge Secret Council, in addition to featuring prominently in the first RuneScape novel, Betrayal at Falador.
Players may start the following quests by speaking to Sir Amik Varze:
He can be found on the 2nd3rd floor[help] of the tower on the west side.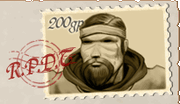 When asked about the "Siege of Falador", Sir Amik Varze will reply with a brief response about Kara-Meir, as well as Squire Theodore, both of which are 2 major protagonists of the Runescape novels "Betrayal at Falador", "Return to Canifis", and "Legacy of Blood". However, when asked about Squire Theodore,  he replies sadly that "...He is no longer with us." In Legacy of Blood, however, the Knight is still very much alive.
When starting the Black Knights' Fortress quest Sir Amik Varze will say "Your mission, should you decide to accept it." This is a reference to the mission briefings in Mission: Impossible.