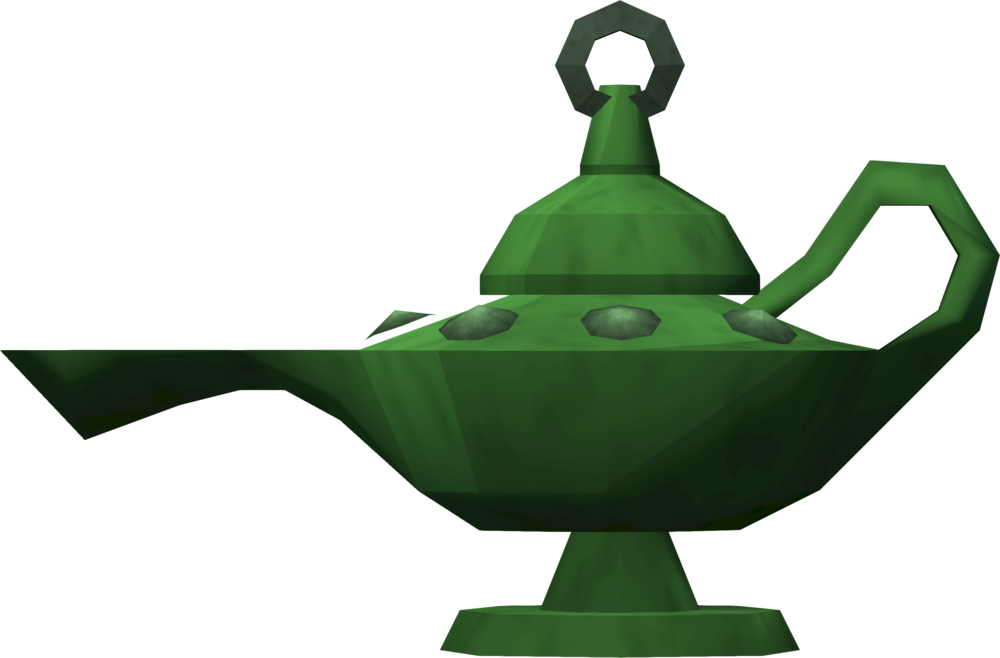 A Sila lamp was a special type of XP lamp that required you to join a lamp pot, lamp handle, and spout of the same type. You could not mix and match other genie lamps. When combining the parts, players would be notified that the process is irreversible and the lamp would become untradeable. If the lamp parts were combined, the lamp became unbankable, and the lamp must have be used or kept in inventory. Players would gain experience in Constitution, Magic, Prayer, Runecrafting and Summoning when they rubbed the Sila lamp. You could disable the reward exp in the Magic skill by talking to Jasper near the Duel Arena.
This lamp could be combined with the four other Genie lamps as well as a bottled genie, to form the Lamp of the Djinn. Experience from this lamp was roughly 25% more than the xp of a medium XP lamp in your chosen skill, and roughly 50% of a small XP lamp's xp in the other 4 skills. At level 99, players were awarded 21,505xp in the chosen skill, and 4,301xp for each of the other 4 skills. Parts for all 5 base lamp types were findable while skilling or in combat. While the parts for these lamps were not sellable or tradeable in the normal sense, they were made exchangeable in a face-to-face trade with other players for an equivalent number of lamp parts. To trade them there must have be an equal number of lamp parts on both sides of the trade, and no money or other items in the trade at all.
Ghul
Ifrit
Marid
Sila
 Lamp
 Handle
 Pot
 Spout
Vetal
Squeal of Fortune and Treasure Hunter

Prismatic
Lamp of the Djinn
Christmas 2014
 Glowing
 Big glowing
Miscellaneous
 Farming XP
Quest related

Broken Home
The Death of Chivalry
Diamond in the Rough
 Combat XP
 Constitution XP
Dimension of Disaster
Dishonour among Thieves
Fate of the Gods
 Large prismatic
 Survivor's
Heart of Stone
The Light Within
Missing, Presumed Death
One of a Kind
Plague's End
A Shadow over Ashdale
Stolen Hearts
The Temple at Senntisten
 Combat
 Experience
The World Wakes
Nomad's Elegy
Kindred Spirits
Gower Quest
 Ian's
 Andrew's
 Paul's
Heroes' Quest
Easy task sets
Medium task sets
Hard task sets
Elite task sets
Meg (Player-owned port)

Small
Medium
Large
Huge
Champions' Challenge

Constitution
Slayer
Miscellaneous

2015 Easter event
 Medium
 Huge
Battle of Lumbridge
Big Cats
 Small
 Medium
The Bird and the Beast
Broken Home
 Large
 Huge
Court Cases
 Attack XP
 Combat XP
 Defence XP
Events
Lumbridge Rebuildathon
 Small
 Medium
 Large
NIS lamp
 Small
 Medium
 Large
RuneScape Road Trip
 Large explorer's (2015)
Sinkholes
Tuska Comes
Up to Snow Good
 Small
 Large
Zodiac Training
Lucky challenge
Prifddinas
The Arc
Ad blocker interference detected!
Wikia is a free-to-use site that makes money from advertising. We have a modified experience for viewers using ad blockers

Wikia is not accessible if you've made further modifications. Remove the custom ad blocker rule(s) and the page will load as expected.