Shortbow
Discuss

0
22,515pages
on this wiki

This article is about the item made from ordinary logs. For shortbows in general, see
Shortbow (bow type)
.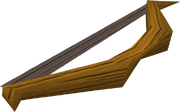 The Shortbow is the weakest shortbow in RuneScape and can only use bronze arrows. Players can purchase this bow only from Lowe's Archery Emporium in Varrock.
Members can make a shortbow through the Fletching skill at level 5. First, a player must cut an unstrung shortbow from logs, granting 5 Fletching experience. Then, the player must string the unstrung shortbow with a bow string, granting 5 experience.
Previously, all new players would obtain a free shortbow after completing the Tutorial, but due to the Tutorial update, players no longer obtain one.
The attack range of the shortbow is 7 spaces.
Combat Stats

| Class | Slot |
| --- | --- |
| Ranged | |

Weapons
Main
Off
Damage
43
-
Accuracy
150
-
Type
Arrow
-
Attributes
Armour rating

0

Life bonus

+0

Prayer bonus

0

Critical bonuses

0%

0%

0%

Attack speed

Fast

Interval: 3.0 seconds

Compare item

A player wielding a shortbow

[view] • [talk]
Dropping monsters
Edit
Shortbows

Shortbow (u) • Oak shortbow (u) • Willow shortbow (u) • Maple shortbow (u) • Yew shortbow (u) • Magic shortbow (u) • Quickbow

Shieldbows

Shieldbow (u) • Oak shieldbow (u) • Willow shieldbow (u) • Maple shieldbow (u) (sighted)• Yew shieldbow (u)• Magic shieldbow (u) (sighted)

Composite bows

Willow composite • Ogre comp • Yew composite • Magic composite

Special bows

Training • Chargebow • Kayle's chargebow • Barbed bow • Sacred clay • Ogre • Ogre comp • Gravite shortbow • Seercull • Dark • Crystal • Zaryte

Crossbows

Bronze crossbow • Blurite crossbow • Iron crossbow • Steel crossbow • Black crossbow • Mith crossbow • Adamant crossbow • Rune crossbow • Dragon crossbow • Armadyl crossbow • Chaotic crossbow•Royal crossbow

Javelins

Bronze javelin • Iron javelin • Steel javelin • Mithril javelin • Adamant javelin • Rune javelin

Throwing axes

Bronze throwing axe • Iron throwing axe • Steel throwing axe • Mithril throwing axe • Adamant throwing axe • Rune throwing axe

Other items

Cannon • Snowball • Chinchompa • Red chinchompa • Holy water • Hand cannon • Arrows • Sagaie • Bolas