A shieldbow is a class of Ranged weapon that includes both a longbow and a shield-like attachment. Because of the attachment, these weapons provide defensive bonuses to armour and life points, as well as counting as a shield for enabling Defence abilities. However, it also allows two-handed Ranged abilities to be used.
Compared to shortbows, they have a lower damage value, but shieldbows generally have an extended attack range of 8 as well as their defensive properties. Effectively, a shieldbow is more similar to combining a one-handed crossbow with a shield, which has the same attack speed. While shieldbows have a damage bonus and enable two-handed abilities, it is less flexible as special shields cannot be swapped in (eg dragonfire shield). Note that the ammunition types differ also, and crossbow bolts can be enchanted while arrows cannot be.
This weapon class was introduced along with the Evolution of Combat. During this time most standard wooden longbows were converted into shieldbows. Before they were simply stronger and slower versions of shortbows with a greater range. However, special longbows such as the crystal bow and zaryte bow were not converted into shieldbows, but instead to shortbows.
Dungeoneering shieldbows
Edit
Shieldbows are available in Daemonheim (called longbows) alongside shortbows for use in training the Dungeoneering skill.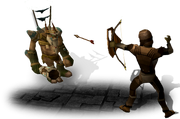 Shieldbows and defenders are the only types of equipment that count as more than one kind of equipment type.
Dungeoneering shieldbows are referred to as longbows, as their names were unchanged with the Evolution of Combat.
Shortbows
Shieldbows
Miscellaneous
Promotional
Other
Ad blocker interference detected!
Wikia is a free-to-use site that makes money from advertising. We have a modified experience for viewers using ad blockers

Wikia is not accessible if you've made further modifications. Remove the custom ad blocker rule(s) and the page will load as expected.