Shield left half
Discuss

14
22,519pages
on this wiki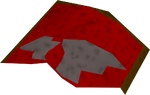 The Shield left half is an item that is dropped by many monsters. However, it is naturally very rare to see this happening. It can be joined with the right half to create the Dragon square shield (requires level 60 Smithing). Joining the right half with the left half earns 75 Smithing experience. It can be considered a rule that, if the monster can drop gems, it can also drop shield left halves. The other half is sold in a shop in the Legends' Guild for 750,000 coins.
The Shield left half is confirmed to be on the rare drop table, so a large number of monsters can drop it. In addition to being dropped by monsters, it can be looted from Kingly Implings.
Dropping monsters
Edit
Previously the right and left halves appeared to be two parts of a kite shield. Jagex later fixed this.
The shield halves are called Right and Left half, even though the two parts appears as the upper and the lower parts of the shield. This is most likely due to the original appearance of each of the halves (shown above)
Players should note that it is cheaper to buy the full shield from the Grand Exchange than to buy the right half from the legends guild for 750k after getting the left half drop.
In RuneScape Classic, shield left halves were arguably the most valuable monster drop in the entire game. As a matter of fact, obtaining the left half as a drop actually required completion of the Legends Quest. This rule seems to have recently been lifted, probably due to the shield being obsolete.
The Shield Left half has still not been graphically updated to look like the current Dragon square shield.
Weapons

| | |
| --- | --- |
| Melee | Hatchet • Pickaxe • Battleaxe • Claw • Dagger • Halberd • Mace • Longsword • Scimitar • Spear • Two-handed sword |
| Ranged | Arrows • Arrowheads • Darts • Dart tips • Crossbow • Off-hand crossbow • 2h crossbow |
| Off-hand | Battleaxe • Claw • Dagger • Mace • Longsword • Scimitar • Defender |

Armour

| | |
| --- | --- |
| Sets | Plate armour set (lg) • Plate armour set (sk) • Chain armour set (lg) • Chain armour set (sk) |
| Set pieces | Boots(dragonbone) • Gauntlets • Helm • Full helm (sp) (or) (dragonbone) • Chainbody • Platebody (sp) (or) (dragonbone) • Platelegs (sp) (or) (dragonbone) • Plateskirt (sp) (or) (dragonbone) • Square shield (sp) (or) • Kiteshield (sp) (or) |

Corrupt dragon

| | |
| --- | --- |
| Armour | Helm • Square shield • Chainbody • Plateskirt • Platelegs |
| Weapons | |

Lucky dragon equipment
Other

Culinaromancer's gloves 9(dragonbone) (Dragon-coloured gloves) • Broken axe • Ruined lump • Ruined shard • Ruined slice • Shield left half • Shield right half • Dragon limbs