Shamus is a leprechaun that plays a part in the Lost City quest. The player must chop the swamp tree directly west of Father Urhney's house in Lumbridge Swamp, after which he will jump out. When spoken to, he tells the player how to get to Zanaris.
Shamus was not graphically updated with the first tool leprechaun update on 25 February 2009. However, he received a graphical rework on 27 May 2009.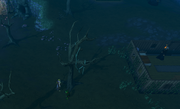 He refers to the player as an "elephant", despite the fact that elephants are not known to exist in RuneScape.
Ad blocker interference detected!
Wikia is a free-to-use site that makes money from advertising. We have a modified experience for viewers using ad blockers

Wikia is not accessible if you've made further modifications. Remove the custom ad blocker rule(s) and the page will load as expected.