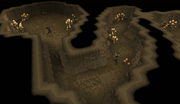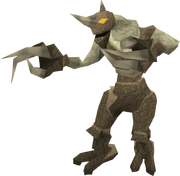 The Shady Grove is a small cave which the player visits during A Fairy Tale Part I - Growing Pains in order to kill a Tanglefoot. Baby tanglefootii can also be fought, providing you have Magic secateurs. The entrance is in Zanaris, near the Cosmic altar and is guarded by a Gatekeeper. The cave, name and monsters were updated along with Zanaris on the thirteenth of May 2010.
Asgarnia
Kandarin
Karamja
Kharidian Desert
Misthalin
Morytania
Fremennik Province
Feldip Hills
Wilderness
Troll Country & The North
Keldagrim
Tirannwn & Galarpos
Others
Shady grove
Ad blocker interference detected!
Wikia is a free-to-use site that makes money from advertising. We have a modified experience for viewers using ad blockers

Wikia is not accessible if you've made further modifications. Remove the custom ad blocker rule(s) and the page will load as expected.