The two shadowy figures are non-player characters featured in a cutscene during the Darkness of Hallowvale quest. They are werewolves hunting humans to appease the blood tithes of House Drakan. Extremely little is known about these figures, and they only appear once in the game. A player can only see these figures once in the cutscene, and they can never be seen after that. It is currently not known how the two Shadowy figures got past the Holy Barrier and into Silvarea, as they are werewolves and wouldn't have been able to pass through the barrier.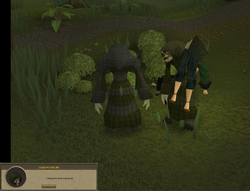 Ad blocker interference detected!
Wikia is a free-to-use site that makes money from advertising. We have a modified experience for viewers using ad blockers

Wikia is not accessible if you've made further modifications. Remove the custom ad blocker rule(s) and the page will load as expected.