Shadow
Release
29 March 2016 (Update)
Members
Yes
Examine
Its shrill laugh pierces the ears of all that hear it.
Combat info
Level
LP
XP
XP
1000
3,000
? (edit)
? (edit)
Equipment XP (2H/MH & Armour/OH)
? (edit)
Aggressive
Poisonous
Offensive
Max hit
1152
1152
1152
0
Style
Speed

4 ticks (2.4s)

Combat levels
Defensive
Armour
Weakness
1694
? (edit)
Affinities
-
55
55
55
Immunities
[FAQ] • [doc]
Shadows are summoned by Gregorovic. In normal mode, they are summoned at 140,000 life points and 60,000 life points in quantities of 2 and 3 respectively. While on the field, Gregorovic can swap places with these shadow copies. Gregorovic will swap places immediately as soon as the shadows appear, interrupting channeled abilities if they are far enough from him. They should be killed immediately to prevent Gregorovic from moving around the arena and getting surprise attacks, especially if they are next to the player. These shadows can be dealt with by luring them together and using an AoE ability like Corruption Shot due to their low health.
In challenge mode, they are summoned at the same health intervals just like in normal mode. However, Gregorovic will summon an additional shadow to assist him in battle.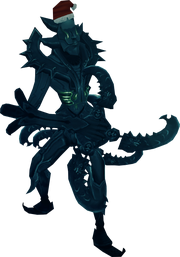 NPCs

Bosses
Monsters

| | |
| --- | --- |
| Serenist | |
| Sliskean | |
| Zamorakian | |
| Zarosian | |
Rewards and drops

Reputation
Essence
Sigil pieces
Weapons

| | |
| --- | --- |
| Helwyr | |
| Gregorovic | |
| Twin Furies | |
| Vindicta and Gorvek | |
| Telos | |

Armour
Boss pets
Telos drops
Other
Faction rewards

Seren
Sliske
Zamorak
Zaros
Ad blocker interference detected!
Wikia is a free-to-use site that makes money from advertising. We have a modified experience for viewers using ad blockers

Wikia is not accessible if you've made further modifications. Remove the custom ad blocker rule(s) and the page will load as expected.