Shadow-Forger Ihlakhizan
Discuss

6
22,529pages
on this wiki
Shadow-Forger Ihlakhizan
Release date
12 April 2010 (Update)
Members?
No
Combat level
130, 143, 160, 183, 214, 230
XP per kill
732 (and 241.6 experience)
Always drops
Kiteshields
Examine text

Normally: It's hanging over a deep chasm with four fleshy tentacles.
In Thok It To 'Em: Weird eyeball thing. Reminds Thok of breakfast.

Combat stats
LP
Max hit
10000
 ?, Special:?

Ranged blobs: ? (x2)

Attack
Defence
Ranged
Magic
65
65
65
65
Other
Immune to Poison?
Immune to Stun?
Yes
Yes
Attack Speed

Speed 7 (Interval: 1.8 seconds)

Aggressive?
Poisonous?
Yes
No
Attack styles
Weakness
Melee
Magic
Ranged

Nothing

[view] • [talk]

Shadow-Forger Ihlakhizan is a Dungeoneering boss monster, part of the Stalker race, that requires level 59 Dungeoneering to encounter and fight. Ihlakhizan is seen suspended over a deep pit, hanging by four tentacles wrapped around the pillars on the corners of the hole. Ihlakhizan has a number of different attacks, so be cautious.
Its first attack is a multi-targeted melee attack in which Ihlakhizan moves its body in a circle, hitting anyone adjacent to it with one attack which can be blocked by Protect from Melee. In fact, this is its only attack completely blockable by prayer. Its second attack is a single-targeting magic attack consisting of an orange beam shot from the top of its body. It has a slight delay compared to its other attacks, but can be followed by them immediately. Protect from Magic will not nullify this attack. The best way to deal with this attack is to teleport out of the room.
Ihlakhizan has three special abilities as well: Its first special ability is a ranged attack consisting of a green acid; spurting from the top of its body which may lower defence from each hit. This is an area-effect attack which ignores armour and is only partially blocked by Protect from Missiles, but it can often be dodged by running players with faster reactions. Players can be hit by multiple overlapping blobs, making this attack particularly deadly to those further away as well as those up close. If Ihlakhizan's combat level is high, this attack can deal 500 or more damage per hit, which can easily cause instant death in one attack. As a result, it may be worth considering the use of Protect from Missiles when facing Ihlakhizan at a combat level over 400.
Its second special ability is a stat-draining flash attack. Ihlakhizan will start to glow, then give off a burst of light within a few seconds. If a player gets caught, they will sustain massive damage (about 80% of their maximum health) and their stats will be reduced by 50%. To avoid it, players must stand behind one of the pillars Ihlakhizan is connected to. The player will be notified by the chat box when Ihlakhizan starts to glow. Similarly to its acid attack, prayer and armour will not nullify the damage from this attack. It is recommended to turn auto-retaliate off when fighting this boss: when its special starts you can run, but if you are hit you will run back out of cover, and be damaged by the flash. This is Ihlakhizan's signature attack as well as its most dangerous. Be warned that if you have low health and you get caught in it, you will die. Teleportation is not an advised method of avoiding this attack; if a player fails to teleport out of the room quickly, the teleportation animation will take place while Ihlakhizan uses its stat-draining attack, and the player will have their stats harshly lowered. Check your stats before you go in again to avoid not being able to teleport back out. Teleportation can be useful in someways, as if you fail to take cover, you can escape with your stats halfed without taking any damage. Resonance will not heal from this attack.
Its third special ability is a shadow attack. This ability targets players who hide behind the pillar for an amount of time. Armour and prayers will not nullify this damage; however, the boss will not use this attack when in the process of charging its stat-draining flash attack.
Ihlakhizan has relatively low defence for its combat level; stab, slash and ranged weapons seem to be very effective, as well as Magic attacks; however, relatively high magic and melee accuracy and strength makes up for its low defence. Ihlakhizan's magic attacks cannot be blocked by Protect from Magic, so it best to use Protect from Melee (if the player is in melee range) or Soul Split instead. Another way of taking advantage of prayers is to pray offensively; try to kill the boss as quick and soon as possible. Since Shadow-forger Ihlakhizan attacks fast, hits very hard, and most of its attacks can't be blocked by prayers, players should take advantage of Ihlakhizan's weak defence and try to finish it off fast.
It also seems that the creature takes more damage if you attack it from the side that it is missing the eye from, this isn't confirmed however it is just speculation from multiple boss fights with it.
An alternative tactic to kill Ihlakhizan is to combine the Vengeance spell and a gatestone teleport. This proves efficient if your team is having trouble with this boss and can be a way to save food. Cast Vengeance on yourself (or have one of your teammates cast it on you), create a gatestone outside of Ihlakhizan's lair, and drop it. Proceed by going inside and attacking Ihlakhizan until it hits you back. This boss hits fairly hard, which means you should be able to deal quite a bit of damage when the Vengeance spell activates. Gatestone teleport out and repeat the process. The "blinding explosion" CANNOT be used to recoil damage and is easily able to reduce your magic level below what is needed to teleport out. It is best to use cosmic runes, as the Magic skill does not reach 130, and cosmics can be used as a backup for 2 times.
Free players should be very careful fighting the boss. It is able to deal massive damage even without the flash attack, and rapidly. Team players should spread around the map to reduce efficiency of the acid attack. Melee may be easier to use for solo players, but melee is not necessarily the only way to ensure the melee attack of it is used, as one can stay within melee range and mage or range it, although this is not recommended. Doing the aforementioned is a good way to ensure that Ihlakhizan uses its melee attack.
Players may find weapons like Primal spear or the Hexhunter bow extremely effective for dispatching this monster; those who can get their hands on one of these weapons will find it very useful especially in a 5:5 team.
Be warned that you should put your gatestone/group gatestone outside the room as there is a very small chance that the signature move can be used while you teleport to it.
Fremennik Saga
Edit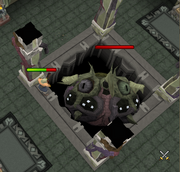 In the saga Thok It To 'Em, Thok fights this boss soon after he defeats Stomp with his brother Marmaros. It is called "Thing with eyes". When killed, Thok takes the eye of the Shadow-Forger, though it is unknown how Thok can collect the prize before the Shadow-Forger falls into the pit.
Frozen

Gluttonous behemoth • Astea Frostweb • Icy Bones • Luminescent Icefiend • Plane-freezer Lakhrahnaz • To'Kash the Bloodchiller

Abandoned 1 & 2

Skeletal Horde • Hobgoblin Geomancer • Bulwark beast • Unholy cursebearer

Furnished

Rammernaut • Stomp • Har'Lakk the Riftsplitter • Lexicus Runewright • Sagittare • Night-gazer Khighorahk

Abandoned 2

Shadow-Forger Ihlakhizan • Bal'lak the Pummeller

Occult

Skeletal trio • Runebound behemoth • Gravecreeper • Necrolord • Flesh-Spoiler Haasghenahk • Yk'Lagor the Thunderous

Warped

Blink • Warped gulega • Dreadnaut • Hope devourer • World-gorger Shukarhazh • Kal'Ger the Warmonger