Ad blocker interference detected!
Wikia is a free-to-use site that makes money from advertising. We have a modified experience for viewers using ad blockers

Wikia is not accessible if you've made further modifications. Remove the custom ad blocker rule(s) and the page will load as expected.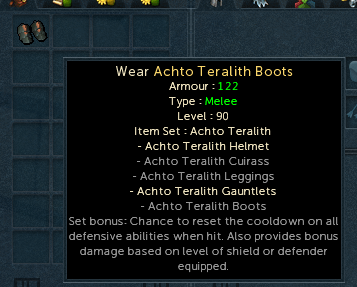 Set bonuses are passive effects that are only given as a bonus for wearing multiple pieces of the same equipment set. Items with set effects have the effect described in a tool tip when the item is hovered over.
This article documents all pages with an explicit in-game tool tip describing the set effect. All other items with set effects are described in the passive effects article.
| Set | Items | Pieces for effect | Description |
| --- | --- | --- | --- |
| Teralith | | 3 | Chance to reset the cooldown on all defensive abilities when hit. |
| Primeval | | 3 | Chance to reset the cooldown on all defensive abilities when hit. |
| Tempest | | 3 | Chance to reset the cooldown on all defensive abilities when hit. |
| Achto Teralith | | 3 | Chance to reset the cooldown on all defensive abilities when hit. Also provides bonus damage based on level of shield or defender equipped. |
| Achto Primeval | | 3 | Chance to reset the cooldown on all defensive abilities when hit. Also provides bonus damage based on level of shield or defender equipped. |
| Achto Tempest | | 3 | Chance to reset the cooldown on all defensive abilities when hit. Also provides bonus damage based on level of shield or defender equipped. |
| Warpriest of Tuska | | 3 | Chance to deal critical damage to the target. |
| Warpriest of Zamorak/Saradomin | | 3 | Chance to reduce damage by 90%, increasing by an additional 1% per piece equipped. |
| Warpriest of Bandos/Armadyl | | 3 | Chance to reduce cooldown duration on abilities. |
| Demon Slayer | | 1 | Provides 2% additional XP in chosen combat style, and 4% additional damage against demons per piece worn. |
| Ahrim's Blight | | 4 | Your magic attacks have a chance to lower your target's Strength level. |
| Dharok's Might | | 4 | You deal increasingly more damage with melee attacks, the lower your current life points are. |
| Guthan's Infestation | | 4 | Your melee attacks have a chance to heal you. |
| Karil's Taint | | 4 | Your ranged attacks have a chance to lower the target's Magic level. |
| Torag's Corruption | | 4 | Your melee attacks have a chance to lower the target's adrenaline. |
| Verac's Defilement | | 4 | Your melee attacks have a chance to deal improved damage. |
| Akrisae's Doom | | 4 | Your attacks have a chance to restore your prayer points. |
| Linza's Disgrace | | 5 | You have a chance to perform a counter-attack when struck in combat. |
| Sliske's Parody | | 3 | Capable of mimicking the effects of Warpriest armour. |
| Set | Items | Pieces for effect | Description |
| --- | --- | --- | --- |
| Constructor | | 5 | Each part grants 1% bonus Construction XP while worn. A full set grants an additional 1% bonus. |
| Golden mining | | 5 | Each part grants 1% bonus Mining XP while worn. A full set grants an additional 1% bonus. |
| Lumberjack | | 4 | Each part grants 1% bonus Woodcutting XP while worn. A full set grants an additional 1% bonus. |
| Black Ibis | | 4 | Each part grants 1% bonus Thieving XP while worn. A full set grants an additional 1% bonus. |
| Master runecrafter | | 4 | Each part grants 1% bonus Runecrafting XP while worn. A full set grants an additional 1% bonus. |
| Fishing outfit | | 4 | Each part grants 1% bonus Fishing XP while worn. A full set grants an additional 1% bonus. |
| Fired up | | 2 | The ring & gloves each provide 2% bonus XP in Firemaking while worn. Having both equipped provides an additional 1% bonus. |
| Sous chef's outfit | | 5 | +1% Cooking XP |
| Artisan's outfit | | 5 | +1% Crafting XP |
| Diviner's outfit | | 5 | +1% Divination XP |
| Farmer's outfit | | 5 | +1% Farming XP |
| Botanist's outfit | | 5 | +1% Herblore XP |
| First Age outfit | | 5 | +1% Prayer XP |
| Blacksmith's outfit | | 5 | +1% Smithing XP |
| Shaman's outfit | | 5 | +1% Summoning XP |
| Nimble outfit | | 5 | +1% Agility XP |
| Fletcher's outfit | | 5 | +1% Fletching XP |
| Sapphire golem outfit | | 5 | 5% boost to mining ore and rocks |
| Emerald golem outfit | | 5 | 5% boost to mining ore and rocks |
| Ruby golem outfit | | 5 | 5% boost to mining ore and rocks |
| Magic golem outfit | | 5 | 7% boost to mining ore and rocks, Living Rock Caverns creatures not aggressive |
| Law ethereal outfit | | 5 | free travel in the RuneSpan, 5% chance for double runes in the RuneSpan, 25% chance to prevent essence pouch degredation, ability to store 6 essence in the outfit |
| Blood ethereal outfit | | 5 | free travel in the RuneSpan, 5% chance for double runes in the RuneSpan, 25% chance to prevent essence pouch degredation, ability to store 6 essence in the outfit |
| Death ethereal outfit | | 5 | free travel in the RuneSpan, 5% chance for double runes in the RuneSpan, 25% chance to prevent essence pouch degredation, ability to store 6 essence in the outfit |
| Infinity ethereal outfit | | 5 | free travel in the RuneSpan, 7% chance for double runes in the RuneSpan, 50% chance to prevent essence pouch degredation, ability to store 12 essence in the outfit, 5 free yellow wizard teleports a day |
| Shark outfit | | 5 | 5% boost to catching fish, option to eat caught fish, Living Rock Caverns creatures not aggressive |
| Tiger shark outfit | | 5 | 5% boost to catching fish, option to eat caught fish, Living Rock Caverns creatures not aggressive |
| Burnt shark outfit | | 5 | 5% boost to catching fish, option to eat caught fish, Living Rock Caverns creatures not aggressive |
| Fury shark outfit | | 5 | 7% boost to catching fish, option to eat caught fish, 10% boost to catching additional fish, chance to save bait, Living Rock Caverns creatures not aggressive |
| Divination energy outfit | | 5 | 5% chance to harvest two memories at once, 5% chance to gain double chronicles on capture, teleports to chronicle hand-in location |
| Divination chronicle outfit | | 5 | 5% chance to harvest two memories at once, 5% chance to gain double chronicles on capture, teleports to chronicle hand-in location |
| Divination memory outfit | | 5 | 5% chance to harvest two memories at once, 5% chance to gain double chronicles on capture, teleports to chronicle hand-in location |
| Elder divination outfit | | 5 | 7% chance to harvest two memories, 7% chance to gain double chronicles, 5% chance of 5x energy on harvest, teleports to chronicle hand-in location and 3 teleports a day to colonies |
| Keldagrim camouflage outfit | | 5 | 5% chance to double pickpocket, 5% chance to avoid stun when pickpocketing, Pyramid Plunder boosts (increased chance of Ibis pieces and sceptres, passing doors and not being hit by snakes), and teleports to thieving locations |
| Prifddinas camouflage outfit | | 5 | 5% chance to double pickpocket, 5% chance to avoid stun when pickpocketing, Pyramid Plunder boosts (increased chance of Ibis pieces and sceptres, passing doors and not being hit by snakes), and teleports to thieving locations |
| Desert camouflage outfit | | 5 | 5% chance to double pickpocket, 5% chance to avoid stun when pickpocketing, Pyramid Plunder boosts (increased chance of Ibis pieces and sceptres, passing doors and not being hit by snakes), and teleports to thieving locations |
| Master camouflage outfit | | 5 | 7% chance to double pickpocket, 7% chance to avoid stun when pickpocketing, increased chance of Seren symbol piece drops, auto-pickpocketing to a max of 10 in a row, Pyramid Plunder boosts, and teleports to thieving locations |