The Sergeant-at-Arms is a female soldier located south-west of Falador at the Clan Camp, accompanied by her partner, Captain of the Guard, who constantly makes romantic advances on her, however, she constantly denies his advances. She is very bad-tempered and refuses to explain anything about the Camp, unlike her leader. Before The Clan Camp was released, the examine of the sergeant was "This grizzled soldier eyes you suspiciously."
The sergeant teaches players about Rated Clan Wars, giving out Rcw badges and Rcw rules. She says that she fought in the Siege of Falador.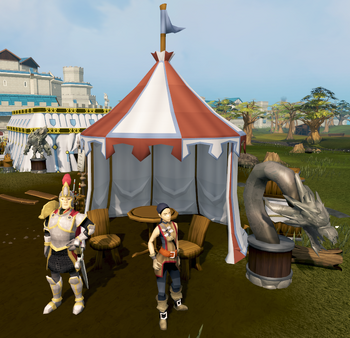 Ad blocker interference detected!
Wikia is a free-to-use site that makes money from advertising. We have a modified experience for viewers using ad blockers

Wikia is not accessible if you've made further modifications. Remove the custom ad blocker rule(s) and the page will load as expected.