Seismic wand
Discuss

5
27,818pages on
this wiki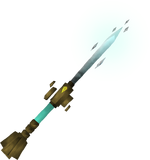 The seismic wand is a magic main-hand weapon dropped exclusively by Vorago. Requiring level 90 Magic to use, it is the strongest one handed magic weapon in the game outside of Daemonheim. The seismic wand degrades over 10 hours of combat and can be repaired by Bob in Lumbridge for the cost of 3,000,000 or on an Armour stand (price varies with higher Smithing).
When dropped in a dangerous player-versus-player situation, the killer will receive the wand in its broken state.
When received with CoinShare active, the Seismic wand will be dropped as 120 Seismic wand shards split evenly among the players and sent directly to their banks. 120 shards can be combined to create this item.
Combat Stats

A player wielding a seismic wand.

Skill requirements
Degrades
90
Yes
Class
Slot
Magic
Weapons
Main
Off
Damage
-
-
Accuracy
2458
-
Style
Spell-casting
Attributes
Armour
0
Life points
0
Prayer
0
Style bonuses

0

0

0

Attack speed
Fastest

Interval: 2.4 seconds

[view] • [talk]
Repair cost
Edit
Enter your smithing level here to calculate how much it would cost to repair the Seismic wand on an Armour stand:
 template = Calculator:Template/Smithing/Armour stand
 form = repairForm
 result = repairResult
 param = cost||3000000|hidden
 param = level|Smithing Level (1-105)|1|int|1-105

Dropping monsters
Edit
| Monster | Combat level | Quantity | Rarity |
| --- | --- | --- | --- |
| Vorago | 10000 | 1 | Rare |
Despite being a degradable piece of equipment, if the wand is broken there is no broken inventory sprite when wielded or in your inventory. The same affects the seismic singularity.