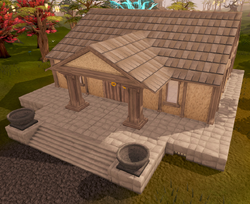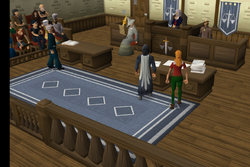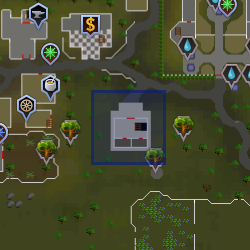 The Seers' Village Courthouse is a building located in Seers' Village, released on 24 July 2007. The Courthouse plays a major role in the King's Ransom quest as well as the Court Cases Distraction and Diversion. During both the quest and court cases, players must take part in a trial in the courtroom, where they may present evidence and question witnesses in order to convince the Judge and Jury of their clients guilt or innocence.
Originally, the Party Room was located where the Courthouse currently is. With the release of King's Ransom, the Party Room was moved to Falador and the Courthouse replaced it. Reference is made to this after successfully completing a court case, when party balloons fall from the ceiling.
Lore and Order, the music track that plays in and around the building, is a play on the words law and order, often referred to in a legal or political context.
NPCs

| | |
| --- | --- |
| Courthouse | |
| Plaintiffs | |
| Defendants | |
| Other | |

Cases
Items
Rewards
Other
Courthouse
Ad blocker interference detected!
Wikia is a free-to-use site that makes money from advertising. We have a modified experience for viewers using ad blockers

Wikia is not accessible if you've made further modifications. Remove the custom ad blocker rule(s) and the page will load as expected.