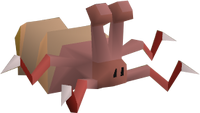 A Sea slug is an item that players can pick up using the Telekinetic Grab spell on a Sea slug that Kent knocks off the player during the Sea Slug quest. Without telekinetic grab, it will merely damage the player for 30 life points, causing them to exclaim "Ouch!" If dropped, players can only pick it up again using another Telekinetic Grab spell. They have no use.
In RuneScape Classic and early RuneScape 2, it could be obtained by telegrabbing any sea slug. However, with the release of The Slug Menace, they were changed from their original status as an item to a non-player character.
They damage you even on free to play worlds.
When you ask the Wise Old Man to check your bank for junk while a sea slug is in it, he will comment "A Sea Slug? Yuk! Get rid of it!"
With the release of The Slug Menace , sea slugs were graphically updated. Before this update, they were a plain tan colour. Now they are a tan and magenta colour.