A sea cucumber is an item that can be fished from the Fishing spot, just south of the Large Jellyfish, on Tutorial Island. It is a section of kelp beside the oyster. It is not marked on the map, and it is not the spot where you caught shrimp.
After completion of Beneath Cursed Tides it can be harvested once a month and used to feed the oyster as part of the Giant Oyster Distraction and Diversion. When attempting to fish from the Fishing spot the player will gain Fishing experience 30 times before finally catching a sea cucumber.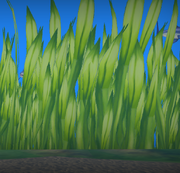 Ad blocker interference detected!
Wikia is a free-to-use site that makes money from advertising. We have a modified experience for viewers using ad blockers

Wikia is not accessible if you've made further modifications. Remove the custom ad blocker rule(s) and the page will load as expected.