Scruffy is the dog of Sir Ceril Carnillean. During the events of Hazeel Cult, he was 20 years old (140 in dog years). Scruffy dies after eating a dish of soup given to it by Philipe Carnillean which was originally poisoned by the player if they sided with the Cult of Hazeel in Hazeel Cult. Scruffy's grave can be found in the corner of the yard.
If the player sided with the Carnilleans, Scruffy instead remains in the corner of the yard.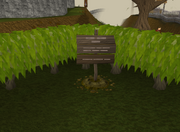 Ad blocker interference detected!
Wikia is a free-to-use site that makes money from advertising. We have a modified experience for viewers using ad blockers

Wikia is not accessible if you've made further modifications. Remove the custom ad blocker rule(s) and the page will load as expected.