The Tree Gnome Stronghold Scout is one of the four scouts from The General's Shadow miniquest. The ring of visibility must be worn to see him, the ghostspeak amulet worn to talk to him, and the full set of Ghostly robes worn for him to recognise you as a messenger for General Khazard.
He is located to the south of the Tree Gnome Stronghold. The scouts radius is from right by the entrance to near the orchard, circling around the Apple orchard, and up to where the Hobgoblins are camped. There is currently a glitch where in the chat menu while talking to him, his face will begin to stretch. This has yet to be fixed.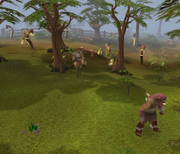 NPCs

Ghosts

| | |
| --- | --- |
| Port Phasmatys | |
| Wilderness | |
| Kharidian Desert | |
| Morytania | |
| The Curse of Zaros | |
| 2014 Hallowe'en event | |
| Others | |

Zombies

| | |
| --- | --- |
| Pirate quest series | |
| Others | |

Skeletons
Other
Ad blocker interference detected!
Wikia is a free-to-use site that makes money from advertising. We have a modified experience for viewers using ad blockers

Wikia is not accessible if you've made further modifications. Remove the custom ad blocker rule(s) and the page will load as expected.