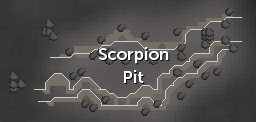 The Scorpion Pit is a valley in the members' portion of the Wilderness extending from level 53 to 55. It is inhabited by level 14 Scorpions, and has Bone and Headless Arrow respawns. All players must be aware that the Chaos Elemental spawns south of here, and the player could get killed fast if he/she isn't paying attention.
Ad blocker interference detected!
Wikia is a free-to-use site that makes money from advertising. We have a modified experience for viewers using ad blockers

Wikia is not accessible if you've made further modifications. Remove the custom ad blocker rule(s) and the page will load as expected.