Walkthrough
Edit
Getting started
Edit
Talk to Thormac on the top floor of the Sorcerer's Tower, south of Seers' Village, north-east of the Ardougne Lodestone. Be sure to get the scorpion cage from him and don't skip any dialogue.
Scorpion Catching
Edit
First Scorpion
Edit
Second Scorpion
Edit
Go to the Barbarian Outpost (a games necklace is helpful).
Go inside the fenced area near the entrance to the agility course.
Go inside the building in the north-east corner of the area.
Catch the scorpion.
Third Scorpion
Edit
Go to the Edgeville Monastery.
Climb the eastern ladder and go to the east side of the floor.
Catch the scorpion.
Finishing up
Edit
Return to Thormac.
Quest complete!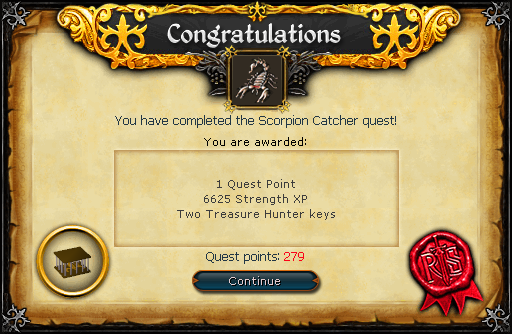 Ad blocker interference detected!
Wikia is a free-to-use site that makes money from advertising. We have a modified experience for viewers using ad blockers

Wikia is not accessible if you've made further modifications. Remove the custom ad blocker rule(s) and the page will load as expected.