Saradominist colossus
Discuss

0
27,110pages on
this wiki
Saradominist colossus
Release date
23 September 2013 (Update)
Members?
No
Combat level
None (180 in Top Trumps)
XP per kill
Varies
Always drops
Divine tears
Examine text
Bringing order to the people, in boulder-sized chunks.

Combat info
LP
Max hit
212,500
32,000 (on Zamorakian siege beasts)
Attack
Defence
Ranged
Magic
Varies
Varies
Varies
Varies
Immune to
Poison?
Stun?
Deflect?
No
No
No
Attack Speed

Speed 4 (Interval: 3.6 seconds)

Aggressive?
Poisonous?
No
No
Attack styles
Weakness
Melee
Ranged

Nothing[[Category:]]
[view]

Saradominist colossi
are extremely large and powerful
golems
serving
Saradomin
that appeared during the final week of the
Battle of Lumbridge
. Two votes to introduce them into the conflict earlier resulted in favor of the
Saradominist champion
 and the 
Saradominist prideleader
, in that order.
They could be found standing by the entrance to Saradomin's camp, regularly bombarding Zamorakian units based on a percentage of their health, to great effect. They use a mix of high-hitting and accurate long ranged attacks and stomp on their target when it is at their feet. Up to two of these units may spawn at once, due to a previous buff from a vote. Defeating one gives the player 6x their multiplier in divine tears. Players who aid in killing a colossus are also rewarded divine tears.
Like all special units, they do not retaliate against players unless they are not currently under attack or are attacking any other target.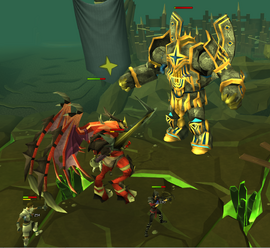 The Saradominist army summons a mighty colossus.
(
link
)