Saradomin
Gender
Male
Alignment
Order
Symbol
Colours
Blue, Yellow, White
Examine
The god of order and wisdom, above all else.
[view] • [talk]

Saradomin (pronounced "Sa-ra-dome-in"[1]) is the god of order and wisdom and is one of the most worshipped gods on Gielinor. His past is very dark and he was known to be one of the most destructive gods, being feared by possibly the entire Naragi race. Today he has a vast number of followers, most of which believe he is the god of good. There are far more churches dedicated to him than to other gods. Most of his modern followers reside in Misthalin, Asgarnia, Kandarin and Entrana, but there are several groups outside these areas. Unlike those of Zamorak or Guthix, his followers consist almost entirely of humans, though that was not always the case. Saradomin's symbol is a four-pointed star (that is usually coloured gold or silver), which he likely took from his crown. Saradomin was the first god to return to Gielinor in the Sixth Age, after Guthix's death.

Saradomin possesses one of the twelve Elder God artefacts, the crown. It is used to locate all the other artefacts, being quite useful for his plans. However, possessing any of the other artefacts will likewise reveal the crown's location. It is known that it is in his possession by much over 10,000 years.
According to Mod Osborne, Saradomin may not be as good as most people judge him to be and he has a dark, malicious side.[2]
History of Saradomin
Edit
In the Naragi realm
Edit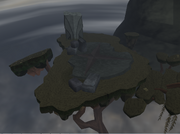 Saradomin, before arriving in Gielinor, was an active god in the Naragi realm and used his giant form which is equivalent to the size of a mountain and was known as "blue giant". He was not a benevolent god and destroyed the most important city of the realm, Askroth, after the Naragi chose not to follow him. Guthix, who was a mortal at that time, along with the rest of his kin were very afraid of him. Soon after Saradomin destroyed Askroth, Tuska, a godly wild beast with no conscience attacked his castle and they battled. After some time, tired with the disruption caused by Tuska, Saradomin left the realm[3]. It is unknown where he had gone but after roughly 4000 years he arrived in Gielinor[4].
In Gielinor
Edit
When he eventually arrived on Gielinor, the portal he came through was on the island of Entrana. This is why all Saradomin's followers have always considered the island as the holiest place in all of Gielinor. He most likely arrived along with other gods such as Armadyl and Zaros in the second age.  According to Guthix, Saradomin wears a crown, an artefact made by the Elder Gods, that allows him to sense the presence of other artefacts made by the Elder Gods. It can therefore be assumed that he came to Gielinor sensing the 3 Elder artefacts Guthix first discovered on Gielinor, the Stone of Jas, or "The eye of Saradomin" as he calls it, the Staff of Armadyl, and "the horn".
Soon after the gods arrived on Gielinor, they started to conquer land. Saradomin's biggest known settlement at that time was the city of Hallowvale. Hallowvale was a mighty city inhabited with Icyene and humans, and ruled by Queen Efaritay and King Ascertes. Hallowvale still exists today under the name of Meiyerditch. Entrana remained under the control of Saradomin through the entire second age, and a fortress was also built on Dragontooth island. He also possibly conquered areas in modern day Asgarnia. In the second age Saradomin had a strong alliance with Armadyl, whether this friendship started before or after their arrival on Gielinor is still unknown. For reasons currently unknown, he appeared to be on bad terms with Zaros, who ruled the mightiest empire of the entire second age.
Near the end of the second age, the Zarosian General and Mahjarrat named Zamorak, started to make plans to overthrow his master. Many of his fellow Mahjarrat sided with him, and Saradomin sent spies to Zamorak's base of operations in order to keep an eye on him.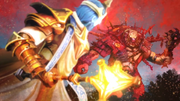 When the Staff of Armadyl, an extremely powerful artefact owned by the god Armadyl, was taken by a Saradomin follower named Valdez, he wanted to take the artefact to Saradomin. However, through a series of unfortunate and accidental actions which some Saradominists played a role in, the staff fell into Zamorak's hands instead. With the power of the staff, Zamorak challenged Zaros in combat, which led to Zaros' banishment. Zamorak, who absorbed most of Zaros' power, was banished as well by Saradomin and the other gods for banishing a god, even though all the other gods feared Zaros, although he later returned as a god himself. Since Zaros' banishment, Saradomin has done everything possible to cover up any information regarding Zaros, mainly to prevent him gaining followers, and thus possibly returning.
After Zaros' banishment, many of his followers sided with Zamorak, and the remaining Zarosian settlements were soon destroyed, mostly by Saradomin and Zamorak. However, after the destruction of the empire, Zamorak turned against the other gods. This marked the beginning of the infamous god wars.
Senntisten and Ghorrock were the only settlements to survive the many attacks of Saradomin and Zamorak, making them the last Zarosian settlements of that time which still stand today.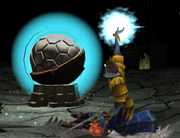 The other gods, including Saradomin, soon wanted to conquer the lands Zaros once ruled. Many battles were held mainly in Forinthry; because of its many resources many gods wanted control over it. The war escalated, however, and soon all of Gielinor was dragged into the war.
Saradomin was one of the most active gods of the god wars, fighting against the armies of Zamorak, who turned into his worst enemy. Many Icyene from Hallowvale left the city in order to fight for their god. Entrana remained in Saradomin's hands during the wars. Saradomin claimed most victories in the areas of modern-day Asgarnia and Misthalin.
However, as much as Saradomin fought against Zamorak, he couldn't prevent him from claiming Hallowvale, which quickly fell to the vampyre lord Drakan, backed by an army granted by Zamorak in exchange for helping him overthrow Zaros. Many Icyene, which were Saradomin's strongest tools of war, were wiped out during the battles.
In a last ditch effort to destroy Zamorak, Saradomin called Armadyl and Bandos together to create the godsword, a very powerful artefact which was believed to be able to kill a god. Saradomin gathered a last battalion to fight Zamorak's forces, and the aviantese of Armadyl were charged with the task of delivering the godsword to this army. But they were ambushed by Zamorak's forces while Saradomin's army was attacked as well. The aviantese retreated into a Saradominist temple which is today the god wars dungeon, and Saradomin and Bandos sent their forces into the dungeon to aid the aviantese. It was during this time that the champion of Zaros, Nex, aroused from her enchanted sleep after Sliske manipulated some people to perform an awakening ritual. Laying waste to vast numbers of followers from all sides, Nex, while weakened from her slumber, was nearly unstoppable along with her army. Soon, all the gods united forces in a temporary alliance and trapped Nex behind a frozen door inside a prison.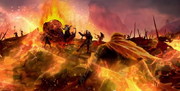 At the peak of the God Wars, Zamorak finally had the Stone of Jas. He used it to enhance his powers and destroyed the entire Forinthry site, which is today the Wilderness. After that, Guthix awoke with the booming and massive destruction from his slumber and immediately put an end to the God wars. He took a gigantic sword, smashed it in the middle of Forinthry as a demonstration of his immense power and created his Edicts, which banished all the major gods of Gielinor. They could still slightly affect Gielinor while not being on it however.
Saradomin's followers consists almost entirely of humans since the Fourth Age, when he started becoming more popular.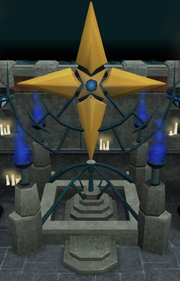 In response to letters he received, he claimed to have created the sense of morality and peace that exists on Gielinor: "Ah... but have you questioned whatever motives Guthix himself might have, to slander me so outrageously? Would you give him the credit for the peace that mostly reigns upon this world for his contribution of sleep? I call this world my creation, for the value system of honour, and courage, and mercy, and wisdom are attributes that I brought to this once barbaric land! It is true, I did not physically create the raw material of this world, but I have shaped and sculpted it into the glorious land that it is today!"[5] Also, Sir Amik Varze, though having mysteriously come to rule over Falador through King Vallance's absence, claims that killing an 'unarmed foe', even a Zamorakian as murderous and dangerous as Solus Dellagar is against the way of his Knights and that of Saradomin, a teaching written in Saradomin's Holy book: "Show love to your friends, and mercy to your enemies, and know that the wisdom of Saradomin will follow."
And yet, as per a quote above, Saradomin himself wished only ill on those who followed Zamorak, claiming that the world needed to be purified of their evil.
Following the events of The World Wakes, Saradomin is once again able to walk on Gielinor. He teleported to Gielinor immediately after Guthix' death, being the first major god to arrive since the Edicts of Guthix were broken, and took Commander Zilyana with him to make preparations for when the other gods will be entering Gielinor.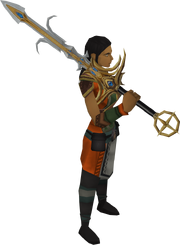 Followers
Edit
Some Saradominists believe that there are only three gods, denying the existence of other gods/demi-gods.
Groups and races
Edit
Notable individuals
Edit
Disputed alignment
Edit
In the "Lore Live Stream with Mods Mark and Osborne", see here, a question was asked about the alignment of Zaros. While introducing this question, the questioner said that the allignments for Guthix, Zamorak and Saradomin were: Balance, Chaos and Order - respectively. Before answering the question about Zaros, Mod Mark said that they are not necessarily agreeing with the ascribed alignments of Guthix, Zamorak and Saradomin - saying nothing further about the topic.
In the FunOrb game Arcanists, statues of Saradomin can be found on the Sky Castle stage.

It's interesting to note that the first portion of Saradomin's name, "Sara", is roughly similar to the Hindi word "Sarah", which translates to "star" in English - and a star is the symbol of Saradomin.
Since Saradomin is known to have had the Elder crown for 10,000 years or more, it is possible that Saradomin became a god after spending a certain amount of time wearing the crown. It is unknown what race Saradomin belongs/belonged to.
References
Edit