Saradomin statuette
Discuss

0
22,529pages
on this wiki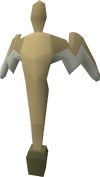 The Saradomin statuette is an item available as a drop from Revenants in the Forinthry Dungeon, or as a very rare drop from the Chaos Elemental. It was originally a drop from players in PvP Worlds and Bounty Hunter worlds to replace certain items that were removed from the drop lists in those worlds (such as the Abyssal whip, Dragon full helm, and the Dragonfire Shield). The statuettes can be sold to either Mandrith in Edgeville bank, or Nastroth in Lumbridge for 400,000 coins.
Dropping monsters
Edit
Levels 1 to 99
Edit
Levels 100 and above
Edit
The Statuette seems to resemble an Icyene, A race of winged Humanoids and part of Saradomin's forces driven to near extinction, So far, Zilyana is the only confirmed Icyene, surviving frozen inside the God Wars Dungeon.
Brawling gloves

Melee • Magic • Ranged • Agility • Cooking • Firemaking • Fishing • Hunter • Mining • Prayer • Smithing • Thieving • Woodcutting

Corrupt Dragon Equipment

| | |
| --- | --- |
| Armour | Helm • Square shield • Chainbody • Plateskirt • Platelegs |
| Weapons | |

Ancient Warriors' Equipment

| | |
| --- | --- |
| Statius's equipment | |
| Vesta's equipment | Chainbody • Plateskirt • Longsword • Spear |
| Zuriel's equipment | Hood • Robe top • Robe Bottom • Staff |
| Morrigan's equipment | Coif • Leather body • Leather chaps • Javelin • Throwing axe |

Corrupt Ancient Warriors' Equipment

| | |
| --- | --- |
| Corrupt Statius's equipment | |
| Corrupt Vesta's equipment | Chainbody • Plateskirt • Longsword • Spear |
| Corrupt Zuriel's Equipment | Hood • Robe top • Robe Bottom • Staff |
| Corrupt Morrigan's Equipment | Coif • Leather body • Leather chaps • Javelin • Throwing axe |

Ancient artefacts

| | |
| --- | --- |
| Icons | Bandos scrimshaw • Saradomin carving • Zamorak medallion • Armadyl totem |
| Statuettes | Bandos statuette • Saradomin statuette • Zamorak statuette • Armadyl statuette • Seren statuette • Ancient statuette |
| Others | Broken statue headdress • Third age carafe • Bronzed dragon claw • Ancient psaltery bridge • Saradomin amphora • Guthixian brazier • Ruby chalice |