Saradomin godsword
Discuss

42
22,497pages
on this wiki
Not to be confused with Saradomin sword. For the version won on the Squeal of Fortune, see lucky Saradomin godsword.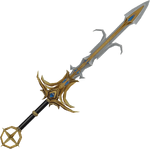 The Saradomin godsword is one of the four legendary godswords that was fought over during the God Wars. Requiring 75 Attack to wield, it is created by attaching a Saradomin hilt to a completed godsword blade, which has no requirements and can be done by any player.
Currently the Saradomin godsword is the most valuable of the four fabled Godswords, with its ability to regenerate lifepoints and prayer making it very useful on Slayer tasks and boss hunting.
The Saradomin godsword has a passive ability that has a 25% chance to restore 3% life points and 3% prayer points. This occurs regardless of whether or not the damage dealt is from autoattacks or abilities. The amount restored is always 3%; it is not dependent on the amount of damage dealt. Therefore, the passive ability will activate most often when the sword is used to deliver multiple hits, such as with Fury, Dismember, and Slaughter, as well as any of the two-handed melee abilities that hit multiple targets.
This effect is quite powerful, needing merely 14 activations (or on average, 56 hits) to surpass healing provided by the Rejuvenate ability, and 56 hits should comfortably fit within a space of 5 minutes in most combat situations. Its prayer restoration is also now capable of restoring up to about 18% prayer per minute if assuming the player uses abilities without stop. It's therefore interesting to note that unlike the other godswords, the Saradomin godsword's post-EoC passive effect actually (vastly) surpasses its pre-EoC special attack in terms of healing (and prayer restoration). It even surpasses the Rejuvenate ability, which is a more powerful version of the old Enhanced Excalibur special, which in turn was commonly regarded as superior in terms of healing compared to the Saradomin godsword's special.
Combat Stats

| Class | Slot |
| --- | --- |
| Melee | |

Weapons
Main
Off
Damage
1676
-
Accuracy
1694
-
Type
Slash
-
Attributes
Armour rating

0

Life bonus

+0

Prayer bonus

4

Critical bonuses

0%

0%

0%

Attack speed

Average

Interval: 3.6 seconds

Compare item

A player wielding a saradomin godsword

[view] • [talk]

Before the Evolution of Combat this weapon used to have a special attack. It was replaced by a passive healing ability as part of the update.
Like the other godswords and the God Wars Dungeon itself, the Saradomin godsword received a graphical update in September 2012.
For a time, there was a bug whereby the Saradomin godsword's minimum healing was too high. For example, the godsword healed a minimum of 199 life points and 99 prayer points, instead of 100 and 50 respectively, if used by a player with 93 Strength and a +163 strength bonus. This was fixed in an update.
The Saradomin godsword is the only sword to maintain a look similiar to the former godswords before September 2012.
Due to the fact that the passive effect has a chance to heal and restore prayer points after every hit, it has become very popular in PvM.
Standard

Bronze • Iron • Steel • Black • White • Mithril • Adamant • Rune • Dragon

Other
Godswords

Armadyl • Bandos • Saradomin • Zamorak

Robes of subjugation
Armadyl armour

Helmet • Chestplate • Chainskirt • Gloves • Boots • Buckler

Bandos armour
Torva armour
Pernix armour
Virtus armour
Ancient ceremonial robes
Frozen key

Frozen key • Armadyl • Bandos • Saradomin • Zamorak

Weapons

Saradomin sword • Zamorakian spear • Armadyl crossbow • Steam battlestaff • Zaryte bow • Virtus wand • Book

Amulets
Books

Armadyl's assault • Zilyana's notes • The glory of general graardor • Nex's followers • Razulei's tale

Soulstones

Armadylean soulstone • Bandosian soulstone • Saradominist soulstone • Zamorakian soulstone