Sap Warrior
Discuss

2
22,528pages
on this wiki
Sap Warrior
Members only?
Yes
Level
50
Prayer book
Ancient Curses
Drain rate
100 points per minute (1 point per 0.6 seconds)
Effect
Drains enemy , and by 10%, increasing to 20% over time.
[view] • [talk]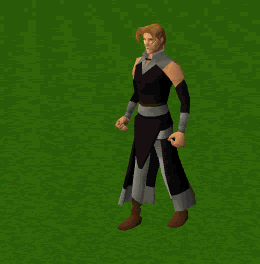 Sap Warrior is an Ancient Curse unlocked after The Temple at Senntisten. It is used in the same way as normal prayers, except you must pray at the altar beneath the Digsite to be able to activate it.
When activated, this prayer will randomly lower your opponent's Attack, Strength, and Defence by 10% while you are in combat, and over time this drain will increase to 20%.
The Defence drain stacks with Sap Mage as well as Sap Ranger, but does not lower Defence by anything more than 10% initially and 20% total if used in conjunction with the other two.
For players with a lower prayer level this curse is useful in both PvP and PvM to lower a melee using enemy's stats considerably, however this come at the cost of prayer points.
It is recommended to use leeches instead of these if a player wants to decrease only 1 stat, as leeches have a lower drain rate. However if one wants to decrease attack and defence, they might consider using this prayer, as 2 leeches stacked have a higher drain rate.
According to the ancient hymnal, Sap Warrior's verbal incantation is "Adimo potestas tua quae tibi donat fortunatam pugnae." (I take away your might that makes you lucky in fight.)
Sap Curses

Sap Warrior • Sap Ranger • Sap Range Strength • Sap Mage • Sap Magic Strength • Sap Spirit • Sap Defence

Deflect Curses

Deflect Summoning • Deflect Magic • Deflect Missiles • Deflect Melee

Leech Curses

Leech Attack • Leech Ranged • Leech Range Strength • Leech Magic • Leech Magic Strength • Leech Defence • Leech Strength • Leech Energy • Leech Adrenaline

Other

Protect Item • Berserker • Wrath • Soul Split • Turmoil • Anguish • Torment